About Cologne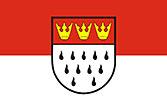 Satellite view of Köln (Cologne), Germany's oldest city. Cologne is since centuries a key inland port in Europe. It is the largest city in the western part of Germany and the fourth largest city in the country.

Köln is located at the Rhine river in southwestern North Rhine-Westphalia state (Bundesland), in central western Germany.

The settlements of Celtic and German people at the site of what is today Cologne, was already a node of urban culture at the intersection of the north-south transport artery Rhine and major land routes for the trade between western and eastern Europe, long before the Romans founded their Colonia (Latin for colony) in 50 AD. Colonia ' Ara Agrippinensium' became the capital of the Roman province 'Germania Inferior' in 85 AD. The province included modern day Luxembourg, southern Netherlands, part of Belgium, and part of North Rhine-Westphalia.

An important step for the further developement of the capital, was the construction of the first Rhine bridge in 310 under Constantine I (the first Christian emperor [sic] ). The city became the most important trade and production center, and one of the first centers of the early days of the Catholic Church in the Roman Empire, north of the Alps.

Today Cologne has a population of about 1 million inhabitants.

Just zoom in to see Cologne Cathedral (Dom zu Köln) in the city center.

The Map shows a city map of Köln with expressways, main roads and streets, zoom out to find Cologne International Airport (Flughafen Köln/Bonn IATA code: CGN) the third largest airport in Germany, located about 15 km (9.3 mi) southeast from Cologne city center and 16 km (9.9 mi) northeast of Germany's former capital Bonn.

To find a location use the form below. To see just the map click on the "Map" button.


To find a location type: street or place, city, optional: state, country.


Local Time Cologne:

Saturday-December-9 20:06

Standard Time Zone (CET): UTC/GMT +1 hour
CEST (Daylight Saving Time) in use from end of March until end of October. Time zone offset: UTC/GMT +2 hours