Searchable Map of Kathmandu using Google Earth Data
Satellite view is showing Kathmandu, largest city and the national capital of

Nepal, situated along the Bagmati River, in central Nepal in the Himalayas at an altitude of 4,450 feet (1,370 m).
Kathmandu has a population of about 1.5 million inhabitants in its urban area. Official language is Nepali, and especially in Kathmandu area Nepal Bhasa (Newari).


The Map shows a city map of Kathmandu with expressways, main roads and streets, Tribhuvan International Airport (IATA code: KTM) is located in east.

To find a location use the form below. To see just the map click on the "Map" Button.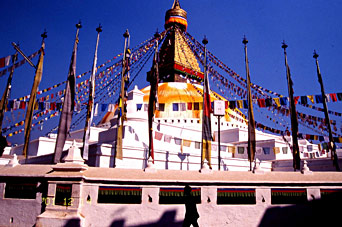 The Boudhanath stupa in Kathmandu is one of the holiest Buddhist sites in Nepal along with Swayambhunath complex. Boudhanath became a UNESCO World Heritage Site in 1979.
Image: Akiyoshi