Satellite View and Map of Karachi using Google Earth Data
Satellite view is showing Karachi, the largest city, principal seaport, and the business center of

Pakistan. Karachi is the capital of Sindh province, located in southern Pakistan at the coast of the Arabian Sea (Indian Ocean).

It was the capital of Pakistan 1947–59 before being replaced by Rawalpindi. The megacity has a population of more than 20 million people living in the metropolitan area and its suburbs.
Official language is Urdu; English is in use.

Other major cities in Pakistan are the capital city Islamabad and the capital of Punjab province Lahore.

The map shows a city map of Karachi with expressways, main roads and streets, zoom out to find the location of Jinnah International Airport Karachi (IATA code: KHI) east of the city.

To find a location use the form below. To view just the map, click on the "Map" button.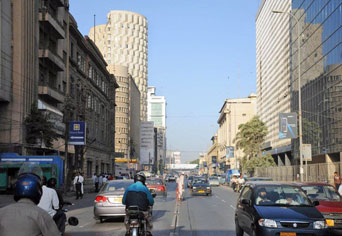 I. I. Chundrigar Road, Karachi