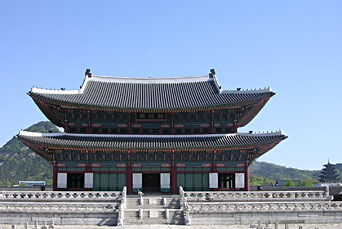 Gyeongbokgung is a royal palace located in northern Seoul. It was first constructed in 1394 and reconstructed in 1867, it was the main and largest palace of the Five Grand Palaces.
Image:
Joon-Young
Searchable Map and Satellite view of Seoul using Google Earth Data
Satellite view showing Seoul, one of the largest cities in the world and the national capital of

South Korea, located in the country's northwest at the Han River, about 30 km east off the coast of the Yellow Sea.

Seoul was the capital of the Korean Yi dynasty from the late 14th century until 1910, when Korea was annexed by the Japanese. Extensively developed under Japanese rule, it became the capital of South Korea after the partition of 1945.

Seoul has a city population of more than 10 million inhabitants and about 23.8 million people live in its metropolitan area.

Just zoom in (+) to see the Namdaemun gate, one the city's great landmarks considered South Korea's No. 1 national treasure. On Feb. 11, 2008 a fire destroyed the 610-year-old wooden structure atop the Namdaemun gate.

The page shows the city of Seoul with surrounding cities, Gimpo International Airport (IATA code: GMP) located west of Seoul;
zoom out (-) to find Incheon International Airport (IATA code: ICN). South Korea's primary airport is located 70 km (43 mi) southwest of Seoul west of the city of Incheon.

To find a location use the form below. To view just the map, click on the "Map" button.