Searchable Map and Satellite View of Ulaanbaatar using Google Earth Data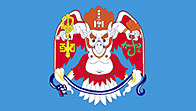 Satellite view is showing Ulan Bator also known as Ulaanbaatar, largest city and the national capital of

Mongolia, the landlocked sovereign state between China in south and Russia in north.

The city lies at an altitude of 1300 m, located in a valley on the banks of the sacred Tuul River (Tuul Gol) north of Bogd Khan Uul mountain, about 230 km south of Mongolia's border to Russia.

The Mongolic peoples were for many centuries a nomadic confederation, organized in clans and dwelling in portable ger (yurt) camps. Ulaanbaatar was established in 1639 as Orgoo (Urga), a moveable yurt city and seat of the first Jebtsundamba Khutughtu, the spiritual leader (Lama) of the Gelug lineage of Tibetan Buddhism in Mongolia. The mobile monastery-town was often moved to various places until 1778 when the city moved from Khui Mandal to its current location.

Today Ulaanbaatar is Mongolia's primate city, the cultural, economical, and industrial center of the nation. About 1.4 million people live in the city, more than one-third of Mongolia's population. Spoken language is Mongolian.

The city is home to the National University of Mongolia

(NUM), the country's oldest institution of higher learning. The public university is a leading center of science, education and culture. Ulan Bator houses numerous museums, well-known are the Museum of National History and the Museum of Natural History.

Just zoom in (+) to see Chinggis Khaan Square, with the Government Palace.

The map shows a city map of Ulaanbaatar with expressways and main roads, zoom out to find the location of Chinggis Khaan International Airport

(IATA code: ULN), about 16 km (10 mi) southwest of the city.

To find a location use the form below.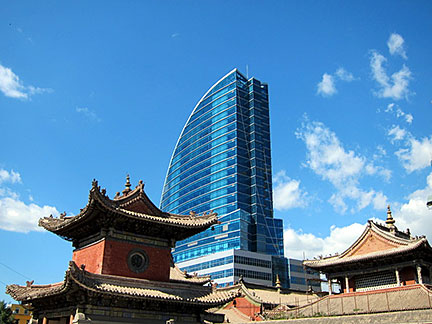 Choijin Lama Temple and the Blue Sky Hotel & Tower, old and new architecture in the city's Sukhbaatar District, the heart of Ulaanbaatar.
Image: tourism.ub.gov.mn



Bookmark/share this page








To find a location type: street or place, city, optional: state, country.


Local Time Ulaanbaatar:

Sunday-November-29 06:01

UTC/GMT +8 hours