Searchable Map and Satellite View of Taipei City using Google Earth Data
Satellite view is showing Taipei, the provisional capital of

Taiwan, of the Republic of China, located in the Taipei Basin, almost at the northern tip of the island, about 25 km southwest of its seaport Chi-lung.
Taipei has a city population of more than 2.6 million inhabitants. Official language is Standard Mandarin (Guóyǔ).

The map shows a city map of Taipei with expressways, main roads and streets, and the location of Taipei Songshan Airport (IATA code: TSA), zoom out to find the location of Taipei's Taoyuan International Airport (IATA code: TPE) about 20 mi (32 km) west of the city.

To find a location use the form below.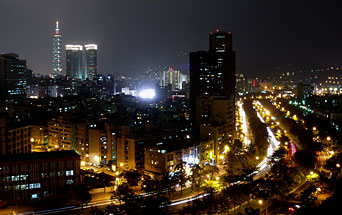 Taipei at Night - Photo by: Gsklee