Searchable Map and Satellite View of Taipei City using Google Earth Data

Satellite view is showing Taipei, the provisional capital of

Taiwan, of the Republic of China. The city is located in the Taipei Basin, almost at the northern tip of the island, about 25 km southwest of its seaport Chi-lung (Keelung). Taipei is bordered by the Xindian River in south and the Tamsui River in west. Taipei City is an enclave within the large urban area of New Taipei, the most populous city in Taiwan. The name 'Taipei' can refer to the whole metropolitan area or the capital itself.

Intensive Chinese colonization of Taiwan began abruptly in the 1630s, shortly after the Dutch East India Company established a trading port on the island.

Taipei was founded by Han Chinese settlers in the early 18th century. In the 19th century, the city gained in importance and rapidly grew, Tamsui (today Tamsui District of New Taipei) had become an important center for overseas trade and a major port by 1850.

China ceded the island of Taiwan to the Empire of Japan in 1895 and the island became a colony of Japan with Taipei as its capital. Following Japanese surrender in 1945, the Republic of China (ROC) took over Taiwan.

Today Taipei has a city population of more than 2.6 million inhabitants. Almost 7 million people live in Taipe's metropolitan area. Official language is Standard Mandarin (Guóyǔ).


The map shows a city map of Taipei with expressways, main roads and streets, and the location of Taipei Songshan Airport

(IATA code: TSA), zoom out to find the location of Taipei's Taiwan Taoyuan International Airport

(IATA code: TPE) about 20 mi (32 km) west of the city.

To find a location use the form below.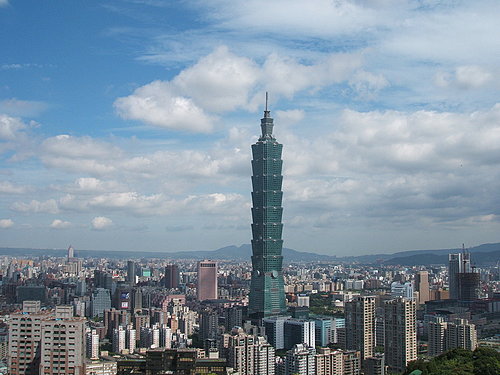 Taipei Central Business District with 'Taipei 101' in center, the world's most technologically advanced supertall skyscraper (509 m).
Photo by: trcheng



Bookmark/share this page







To find a location type: street or place, city, optional: state, country.


Local Time Taipei:

Wednsday-November-25 12:11

UTC/GMT +8 hours