Searchable Map and Satellite View of Fukushima using Google Earth Data
Satellite view showing Fukushima, capital city of Fukushima Prefecture in Japan. The City is located in the Tōhoku region 80 km south of Sendai on Honshu, Japan's main island.

Fukushima has a population of about 300,000 inhabitants.

Fukushima No. I Nuclear Power Plant.

After Japan's most powerful ever earthquake in recorded history on 11th March 2011, Fukushima No. I Nuclear Power Plant was hit on March 12 by a massive explosion blowing open the reactor container building, causing a plume of white smoke or steam rising above the plant, and most likely leading to radiation leaks.

The Japanese government declared an "atomic power emergency" and was evacuating thousands of residents living close to Fukushima power plant. On Sunday, 13th March, the authorities had widen the emergency zone to 20 km (12.5 mi) around the nuclear power plant, affecting more than 200,000 people to be evacuated, and that in a region which is most affected by the earthquake and the ensuing tsunami. Officials tried to downplay the danger of a nuclear core meltdown, but that might also had to do with the Asian fear for loosing face.

The map shows a city map of Fukushima with expressways, main roads and streets, zoom out to find the location of Fukushima Airport (IATA code: FKS), located in nearby Sukagawa, 77 km (48 mi) by road south of the city. Fukushima No. I Nuclear Power Plant is located 91 km (56.5 mi) south east of Fukushima city at the northeastern coast of Honshu island near the town of Okuma.

To find a location use the form below.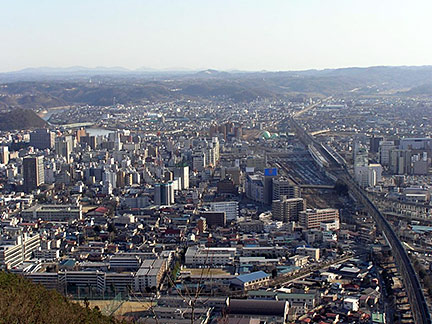 Areal view of Fukushima City.


Photo: Decosu





Bookmark/share this page







To find a location type: street or place, city, optional: state, country.


Local Time Fukushima:

Sunday-November-29 03:25

UTC/GMT +9 hours