Searchable Map and Satellite View of Yokohama using Google Earth Data
Satellite view showing Yokohama, a major seaport and the second largest city in Japan.. The capital city of Kanagawa Prefecture is located about 30 km (18 mi) south of Tokyo, on Tokyo Bay in the Kantō region on the southern side of the island Honshu, Japan's main island.

Yokohama has a population of about 3.6 million inhabitants.
The city of Yokohama is a major commercial hub of the Greater Tokyo Area with shipping, biotechnology, and semiconductor industries. Multinational carmaker Nissan moved its headquarters to Yokohama in 2010.

The map shows a city map of Yokohama with expressways, main roads and streets, and the location of the nearest airports to Yokohama, Tokyo International Haneda Airport (IATA code: HND) located 15 km (10 mi) north of Yokohama Station; and Narita International Airport (IATA code: NRT) located in Narita, Chiba.

To find a location use the form below.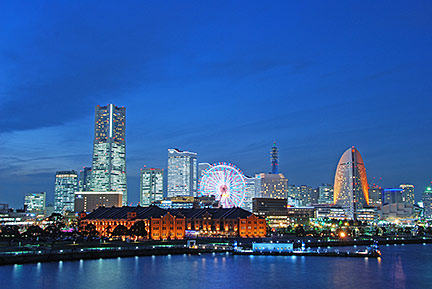 Minato Mirai 21, a large urban development in Yokohama, with Nisseki Yokohama, Landmark Tower (Japan's tallest skyscraper) and the Cosmo Clock 21 (ferris wheel).
Image: akumach