Flag of Lithuania

Background:
Independent between the two World Wars, Lithuania was annexed by the USSR in 1940. On 11 March 1990, Lithuania became the first of the Soviet republics to declare its independence, but this proclamation was not generally recognized until September of 1991 (following the abortive coup in Moscow). The last Russian troops withdrew in 1993.
Lithuania subsequently has restructured its economy for eventual integration into Western European institutions.
(Source: CIA - The World Factbook)

border countries: Belarus, Latvia, Poland, Russia (Kaliningrad)

realated countries: Estonia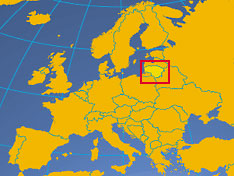 Official Name:
Lietuvos Respublika
short form: Lietuva
int'l long form: Republic of Lithuania
int'l short form: Lithuania

ISO Country Code: lt

Time:
Local Time = UTC +2h
Actual Time:

Sun-Feb-19 23:00



Country Calling Code: +370

Capital City: Vilnius (pop. 541 000)

Other Cities: Kaunas (360 000), Klaipeda (187 000), Siauliai (130 000), Panevezys (115 300).

Government:
Type: Parliamentary Republic.
Independence: 11 March 1990 (independence declared from Soviet Union); 6 September 1991 (Soviet Union recognizes Lithuania's independence)
Constitution: Adopted 25 October 1992.

Geography:
Location: Eastern Europe, on the eastern shore of the Baltic Sea.
Area: 65,300 km² (25,212 sq. mi.).
Terrain: fertile, central lowland plains separated by hilly uplands created by glacial drift. A total of 758 rivers, many navigable, and 2 833 lakes cover the landscape.
Administrative divisions: 10 counties (apskritys, singular - apskritis); Alytaus, Kauno, Klaipedos, Marijampoles, Panevezio, Siauliu, Taurages, Telsiu, Utenos, Vilniaus.

Climate: Humid continental with four distinct seasons, and a moderating maritime influence from the Baltic Sea.

People:
Nationality: Lithuanian(s).
Population: 3.2 million (2012)
Ethnic groups: Lithuanian 83.5%, Polish 6.7%, Russian 6.3%, Byelorussian 1.2%, other 2.3%.
Religions: Catholic (79%), Orthodox (4.1%), Protestant (1.9%).
Languages: Lithuanian; a minority speaks Russian (8%) and Polish (5.6%).
Literacy: 99.6%.

Natural resources: Peat, arable land, amber.

Agriculture products: Grain, potatoes, sugar beets, flax, vegetables; beef, milk, eggs; fish.

Industries: Metal-cutting machine tools, electric motors, television sets, refrigerators and freezers, petroleum refining, shipbuilding (small ships), furniture making, textiles, food processing, fertilizers, agricultural machinery, optical equipment, electronic components, computers, amber jewelry.

Currency: Litas (LTL)

Source: Ministry of Foreign Affairs and others.



Lithuania in Figures
Key statistical data of Lithuania.