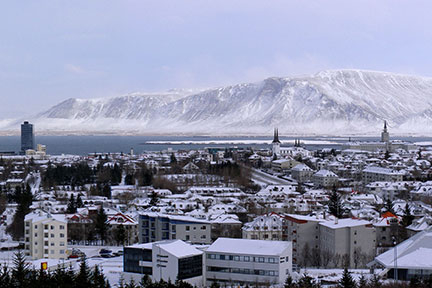 City View of Reykjavík, Iceland's capital with Esja mountain in the background.

Image: Napoleon tnt
Searchable Map and Satellite View of Reykjavik using Google Earth Data
Satellite view is showing Reykjavik, seaport and the national capital of

Iceland and the northenmost capital city in the world.

Reykjavik is located in southwestern Iceland, on the southern shore of Faxaflói Bay.

The city's population in the capital area is nearing 200,000 inhabitants, about 60% of Iceland's total population of 300,000.
Spoken language is Icelandic.

The map shows a city map of Reykjavik with expressways, main roads and streets, and the location of Reykjavik Airport (IATA code: RKV), zoom out to find Reykjavík-Keflavík Airport (IATA code: KEF), Iceland's international airport located about about 50 km (31 mi) southwest of the city.

To find a location use the form below.