Flag of Wales - The Red Dragon Flag

Background:
Wales is a country, and one of the four constituent nations which form the United Kingdom, located in the south-west of Great Britain bordered by England to the east, the Bristol Channel to the south, St George's Channel in the west, and the Irish Sea to the north.

Wales lost its independence in 1282 when it was conquered by the English King Edward I. From this time until 1999, Wales was ruled directly from London. In 1999 the first elections for the National Assembly for Wales were held. An Assembly with only limited domestic powers. Plans to increase the Welsh assembly's law-making powers are due to be announced.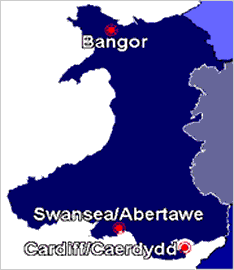 Official Name:
Wales
Welsh: Cymru

Time:
Local Time = UTC +0h
Actual Time:

Thu-Mar-30 22:32


Daylight saving time (DST) from March to October: UTC +1

Capital City: Cardiff (Caerdydd, pop. 305 000)

Other Cities:
Newport (137 000), Swansea (223 000)

Government:
Type: Constituent Nation of the United Kingdom
Head of state: HM Queen Elizabeth II

Geography:
Location: Europe, south-west of Great Britain bordered by England to the east, the Bristol Channel to the south, St George's Channel in the west, and the Irish Sea to the north.
Area: 20 755 sq. km (8,023 square miles).

Climate: Temperate, rainy some sunny spots.

People:
Nationality:
Population: 3.1 million people (2013)
Ethnic Groups: British 95%, Irish 0.5%
Religions: Christian 72%
Languages: English, Welsh (less than 30%)
Literacy: 99%

Currency: Pound sterling £ (GBP)