Searchable Map and Satellite View of Oslo using Google Earth Data
Satellite view is showing Oslo, chief port, largest city, the national capital of

Norway, situated on the southern coast at the head of Oslofjord.

Founded in the 11th century, it was known as Christiania (or Kristiania) from 1624 until 1924 in honor of Christian IV of Norway and Denmark (1577–1648).
The city is the seat of the country's government. Oslo is Norway's primary city and its cultural, economic, scientific, and political center, and it is an important center of maritime knowledge in Europe.
Oslo is considered to be a global city, it is ranked a "Beta World City Plus".
The city has a population of 580,000 inhabitants, more than 800,000 live in its urban area.
Spoken language is Norwegian in various dialects.

Zoom straight in to see Oslo's Royal Palace.

The map shows a city map of Oslo with expressways, main roads and streets, zoom out to find the location of Oslo's international airport, Gardermoen (IATA code: OSL) about 35 km (22 mi) north-northeast of the city, and Oslo-Sandefjord Airport (IATA code: TRF) about 115 km (71 mi) in south.

To find a location use the form below.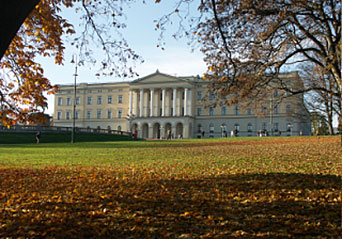 Royal Palace - Oslo