Searchable Map and Satellite View of Tallinn using Google Earth Data

Satellite view is showing Tallinn (for centuries known as Reval), largest city, main port, and the national capital of

Estonia, one of the three Baltic states in North Eastern Europe.

The city is located at the northern coast of Estonia, along the Gulf of Finland.

The site of Tallinn was inhabited since at least 5000 years: In Medieval times the city was an important port for trade between Scandinavia and Kievan Rus' (today Russia). Kingdom of Denmark rule of Tallinn (Reval) and Northern Estonia started in 1219. In 1285 Reval became the northernmost member of the Hanseatic League, the powerful economic and defensive alliance of trading-ports in Northern Europe from the 13th until the 17th century. The Danes sold Reval along with their other land possessions in northern Estonia to the Teutonic Knights in 1346.

Today Tallinn has a population of about 400,000. Spoken language is Estonian.

In 2011 Tallinn was the European Capital of Culture, designated by the European Union for one calendar year.

The city is home to the Tallinn University of Technology and the Tallinn University. The city's Old Town

is a UNESCO World Heritage site.

The Map shows a city map of Tallinn with expressways, main roads and streets, Tallinn port with ferry services to Stockholm and Helsinki.
Lennart Meri Tallinn Airport

(IATA code: TLL) is located on the shore of Lake Ülemiste. about 4 km (2.5 mi) by road (via Tallinn - Tartu - Võru - Luhamaa/Route 2) south east of Tallinn's city center.

Just zoom in (+) to see Alexander Nevsky Cathedral, Tallinn's largest and grandest orthodox cupola cathedral.

To find a location use the form below. To view just the map, click on the "Map" button.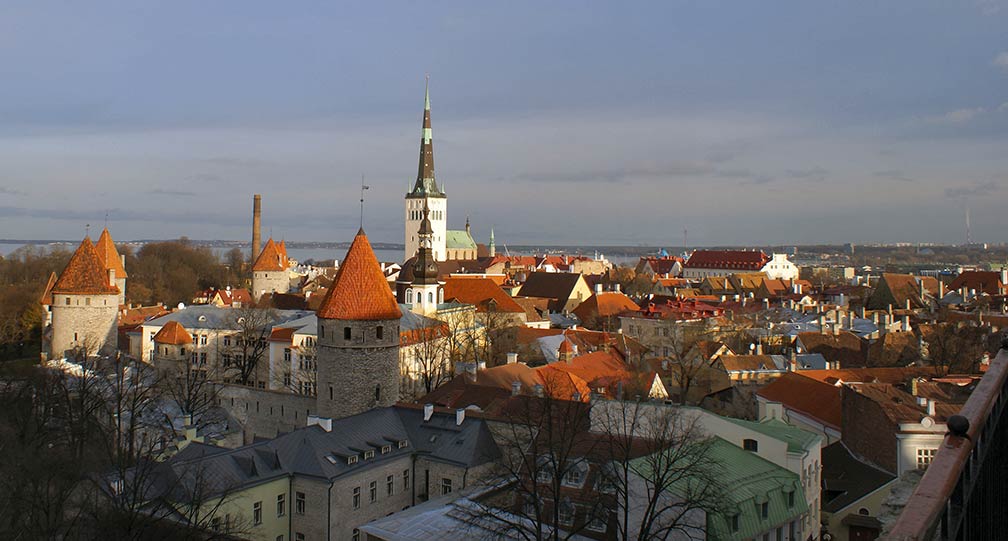 Tallinn view from Toompea hill - Photo: Gunnar Bach Pedersen.




Bookmark/share this page