Searchable Map and Satellite View of Riga using Google Earth Data
Satellite view is showing Riga, seaport, largest city and the national capital of

Latvia. The city is situated on the estuary mouth of the Daugava River to the Baltic Sea.

Riga is the largest city in the Baltic states and for centuries a major commercial, cultural, and financial center in the Baltics.
Riga has a population of about 700,000 people, 1 million inhabitants live in its metropolitan area (Riga Region).
Spoken languages are Latvian (official), Russian, and Lithuanian.

The Historic Centre of Riga is a UNESCO World Heritage Site.


The map shows a city map of Riga with expressways, main roads and streets, and the location of Riga International Airport (IATA code: RIX) about 10 km (6 mi) west of the city.

To find a location use the form below.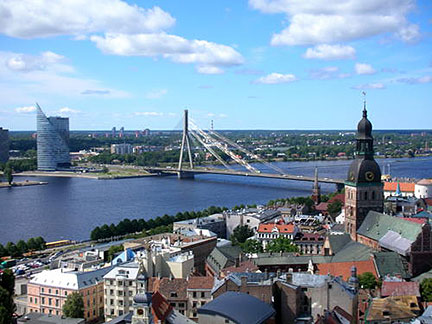 View of Riga's Old Town with Dome Cathedral, Vanšu bridge spanning the Daugava river in background.
Image: Véronique Dauge © UNESCO

To find a location type: street or place, city, optional: state, country.


Local Time Riga:

Sunday-January-25 05:48

Time zone: Eastern European Time (EET) :: UTC/GMT +2 hours
Daylight saving time from end of March until end of October
UTC/GMT +3 hours.