About Busan

The satellite view shows Busan, officially Busan Metropolitan City, also sometimes written Pusan, a port city and the second largest metropolis in

South Korea. Busan is located on the southeastern corner of the country east of the Nakdong River on the tip of the Korean peninsula at the Korea Strait, the sea passage between South Korea and Japan.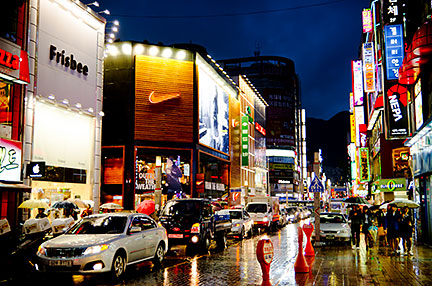 Image: Carey Ciuro

Busan was for some time in the Korean War the temporary capital of the Republic of Korea.
The city has today a population of about 3.6 million inhabitants, 4.6 million live in Busan's metropolitan area which includes the adjacent cities of Gimhae and Yangsan.

The city is the cultural, educational and economic center in the south eastern region of South Korea, situated in South Korea's largest industrial area, the Southeast economic zone.

Most of of the city's attractions are in the Haeundae area. The city is a venue for shopping addicts, it is home to one of the world's largest department store, the Shinsegae flagship store in Centum City. The city and is also known for its beaches, local seafood and events such as the city's renowned international film festival. Busan was the host city of the 2002 Asian Games and one of the host cities for the 2002 FIFA World Cup which took place in South Korea and Japan.

The page shows the city of Busan, and the location of Gimhae International Airport (IATA code: PUS) located about 15 km by road west of Busan.

To find a location use the form below. To view just the map, click on the "Map" button.

To find a location type: street or place, city, optional: state, country.


Local Time Busan:

Saturday-January-22 02:33 UTC/GMT +9 hours