About Kyoto

Satellite view showing Kyoto, capital city of Kyoto Prefecture in Japan. The city is located at the foot of Mount Atago in the Kansai region, nestling in a valley in the eastern part of a mountainous landscape known as the Tamba highlands in the central part of the island of Honshu, Japan's largest and most populous island.

Kyoto was Japan's capital until the Meiji Era (1868 - 1912), when Emperor Meiji and the imperial court moved to Edo (today Tokyo) in 1868. Kyoto Imperial Palace and Sento Imperial Palace In the Kyoto's Gyoen area was for centuries homes of the Emperors of Japan.

Kyoto has a population of almost 1.5 million inhabitants. The city is part of the Keihanshin metropolitan area along with Osaka and Kobe. Japan's second most populated urban region has a population of more than 18 million people. The Tōkaidō Shinkansen links Kyoto with Nagoya, Yokohama and Tokyo.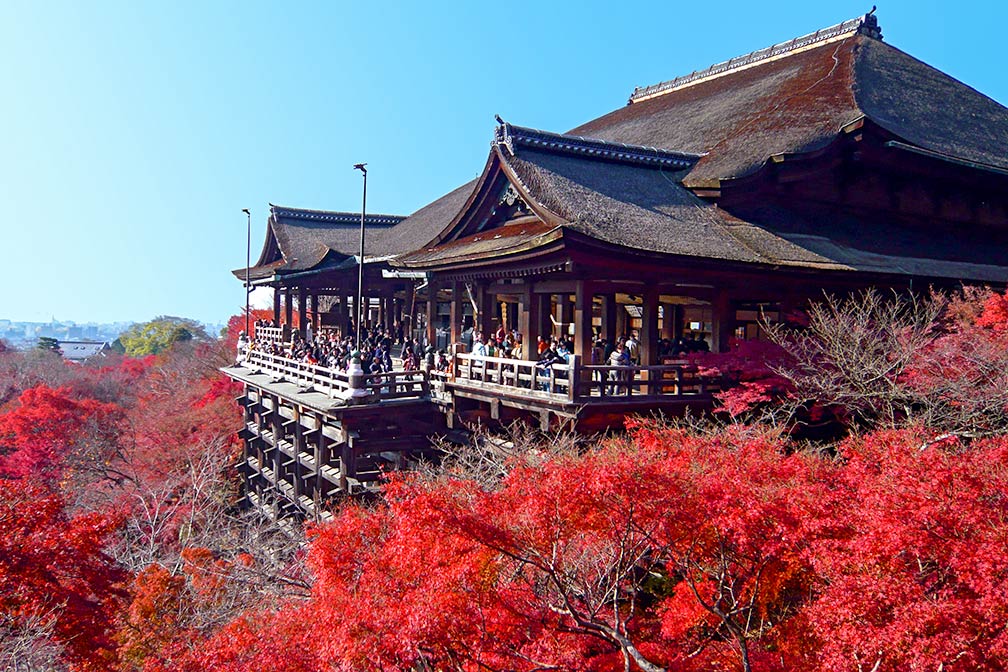 Image: Oilstreet
Kyoto was the center of Japanese culture for more than 1,000 years. The city is famous for literally thousands of Buddhist temples and Shinto shrines, among them the Enryaku-ji Temple complex, a Tendai monastery located on Mount Hiei, and To-ji Temple (Tō-ji), the East Temple, are two of the most prominent examples of Buddhist tradition.
In Kyoto's Higashiyama area resides the Kiyomizu-dera Temple, one of the most famous temples in Japan. The temple is part of the Historic Monuments of Ancient Kyoto

a UNESCO World Heritage site, and one of the National Treasures of Japan.
The city is also home to Kyoto National Museum, one of the three formerly imperially-mandated art museums in Japan.

The map shows a city map of Kyoto with expressways, main roads and streets, zoom out to find the location of the nearest airport to Kyoto, Itami International Airport (IATA code: ITM) and Kansai International Airport (IATA code: KIX), which is located on an artificial island southwest of Osaka.

Just zoom in (+) to see Nijō Castle, one of the seventeen Historic Monuments of Ancient Kyoto.

To find a location use the form below.


To find a location type: street or place, city, optional: state, country.


Local Time Kyoto:

Saturday-September-30 04:27

UTC/GMT +9 hours