About Kobe

Satellite view showing Kobe, Japan's sixth largest city. The capital city of Hyōgo Prefecture is located in the Kansai region at the southern coast of Honshu, Japan's main island.

Kobe has a population of about 1.5 million inhabitants. The city is part of the Keihanshin metropolitan area along with Osaka and Kyoto. Japan's second most populated urban region has a population of more than 18 million people.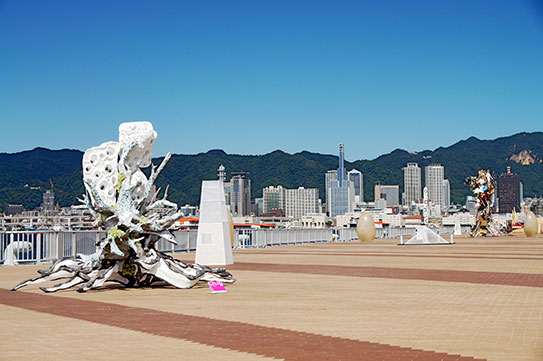 Kobe Biennale 2011, Po-ai Shiosai Park in Kobe.

Photo: 663highland

Kobe was one of the busiest ports in the world until the city was hit by a massive earthquake in January 1995. Beside other huge damages the earthquake destroyed 120 of the 150 quays in the port of Kobe.
Today Kobe is Japan's fourth busiest container port.

Kobe points of interest:
Ikuta Shrine (one of the oldest Shinto shrines in Japan), Taisan-ji (Tendai temple, a National Treasure of Japan), Arima (Arima Onsen) one of the most famous hot springs in Japan. Kobe Chinatown (one of only three designated Chinatowns in the country), Kobe Port Tower (the observation deck at a height of 90 m), Kobe City Museum (showcases Nanban art and has an archaeological collection), Hyōgo Prefectural Museum of Art (modern and contemporary art - sculptures, prints and paintings), Kobe Maritime Museum (history of Japanese shipping), Rokkō Island and Port Island (artificial islands), Mount Maya (700 m high vista point)


The map shows a city map of Kobe with expressways, main roads and streets, and the location of Kobe Airport (IATA code: UKB), located on an artificial island about 8 km (5.0 mi) south of Sannomiya Station, Kobe's main railway terminal.
Zoom out to find nearby Osaka Itami International Airport (IATA code: ITM) it is the primary domestic airport for the Kansai region including the cities of Osaka, Kyoto, and Kobe. Zoom out to find the location of Kansai International Airport (IATA code: KIX), which operates all scheduled international passenger flights and most cargo flights in the Kansai region, the airport is located on an artificial island southwest of Osaka.

To find a location use the form below.

To find a location type: street or place, city, optional: state, country.


Local Time Kobe:

Thursday-March-23 12:21

UTC/GMT +9 hours