About Bangkok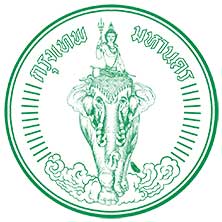 Searchable map showing Bangkok, the primate city and national capital of

Thailand. The city is located on the banks of the Chao Phraya River, north of the Gulf of Thailand.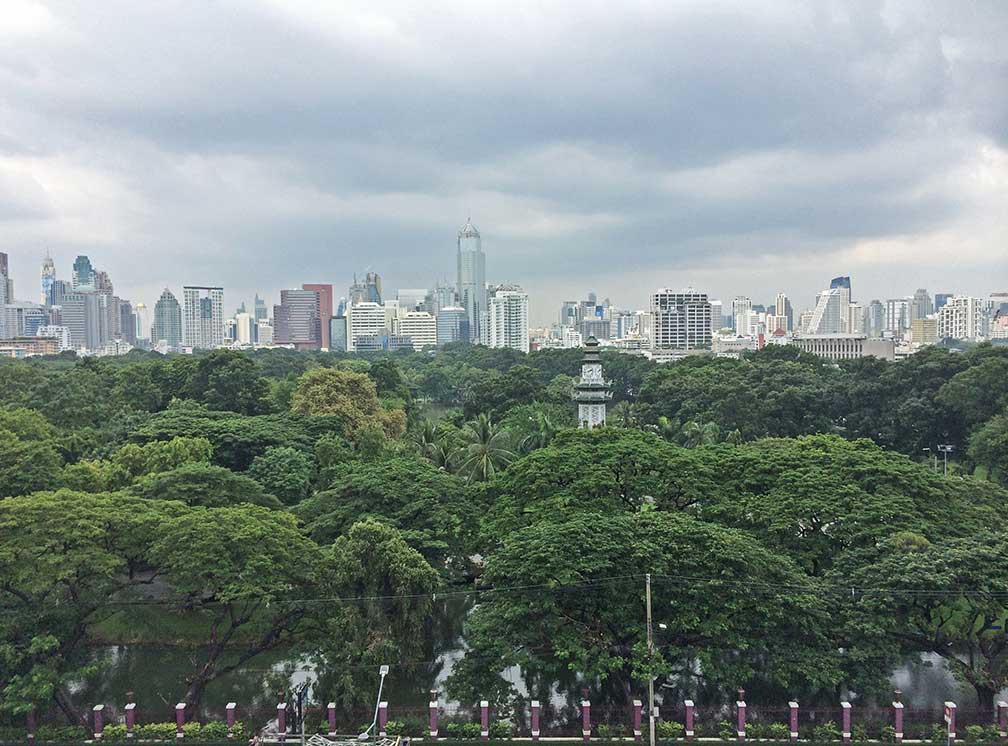 Image: © Nations Online Project

In 1767, Siam's capital Ayutthaya had been almost completely destroyed by Burmese invaders. Thai King Taksin was forced to move the capital to Thonburi (today part of Bangkok) where he built the old palace beside Wat Arun on the west bank of Chao Phraya River.

Today Bangkok is the cultural and political center of the country and the seat of the Kingdom of Thailand. Official language is Thai; English in use but proficiency is low.

Bangkok has a population of official 8.3 million inhabitants (2010 census), an estimated 10 million people live in Bangkok's sprawling metropolitan area.

Thailand's capital is known to Thai people as Krung Thep, loosely translated to 'City of Angels', it is the short form of Bangkok's ceremonial name which in Thai consists of 139 letters, making it the world's longest name of a large city.

Bangkok points of interest:
Bangkok is one of the most visited cities in the world, so most tourists are heading straightaway to the beaches and islands in south, or journey on to the tourist attractions in the northern part of Thailand. If you stay in the city, welcome to a concrete jungle, offering sidewalks which can kill your high-heels or break your legs, clogged with street stalls and unmoving ambling onlookers. The city is loosely interspersed by rampant greenery with hidden wildlife, there are no-smoking parks, shabby shop-houses constrained by high-rises and more or less fancy condominiums, Khlongs (canals) with public transport by boat, deafening dizzying traffic with seemingly no rules, more or less unmoving in times of rush-hour, candy-colored taxis, hundreds of temples, a Skytrain (roht fai faa), Bangkok's elevated rapid transit system, and there is the mighty meandering Chao Phraya River crisscrossed by a plethora of water transport vehicles. But this is just the beginning.


The Must See: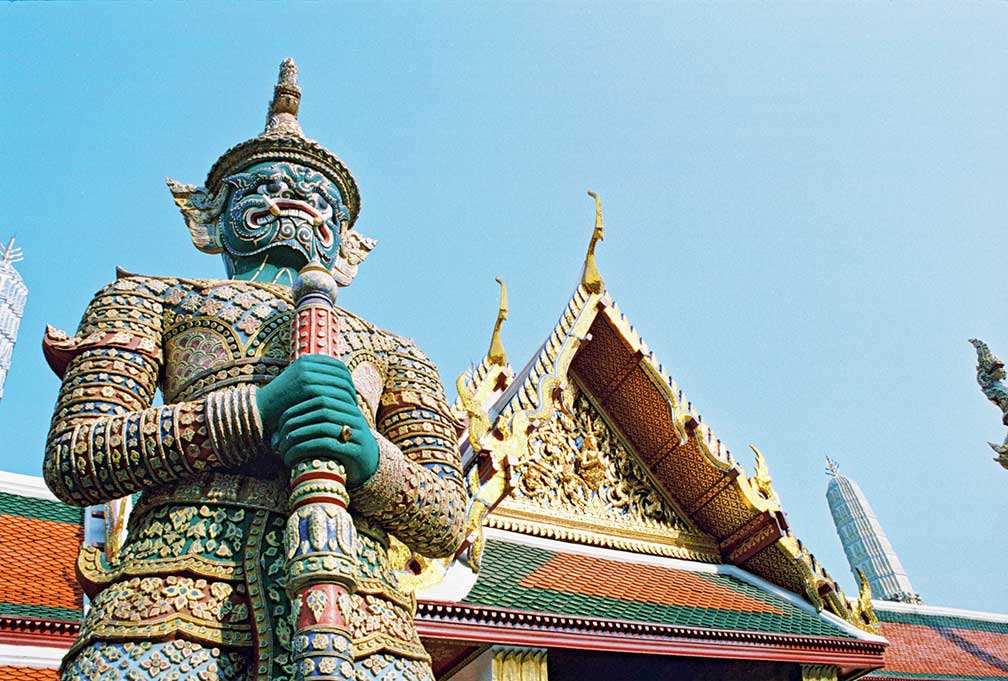 Image: © nationsonline.org

Grand Palace and Wat Phra Kaew, the Grand Palace consists of numerous royal buildings surrounded by a wall, adjacent to the temple complex of Wat Pra Keaw. The palace was the official residence of the Kings of Siam for more than 140 years until 1925. Today some of the palaces are still used for official events. Close to the palace is the site of the Temple of the Emerald Buddha (Wat Phra Kaew), also known as the Chapel Royal, it consists of an accumulation of mirror-mosaic coated Buddhist temples, dome-shaped gilded stupas, painted or gold-plated walls, and plenty of small and huge statues representing mythical guardians and figures from the Ramakien (Ramayana) epic. The central building is the Ubosot, the temple that houses the statue of the Emerald Buddha. The 60 cm tall jade statue is the protective spirit of the Thai society.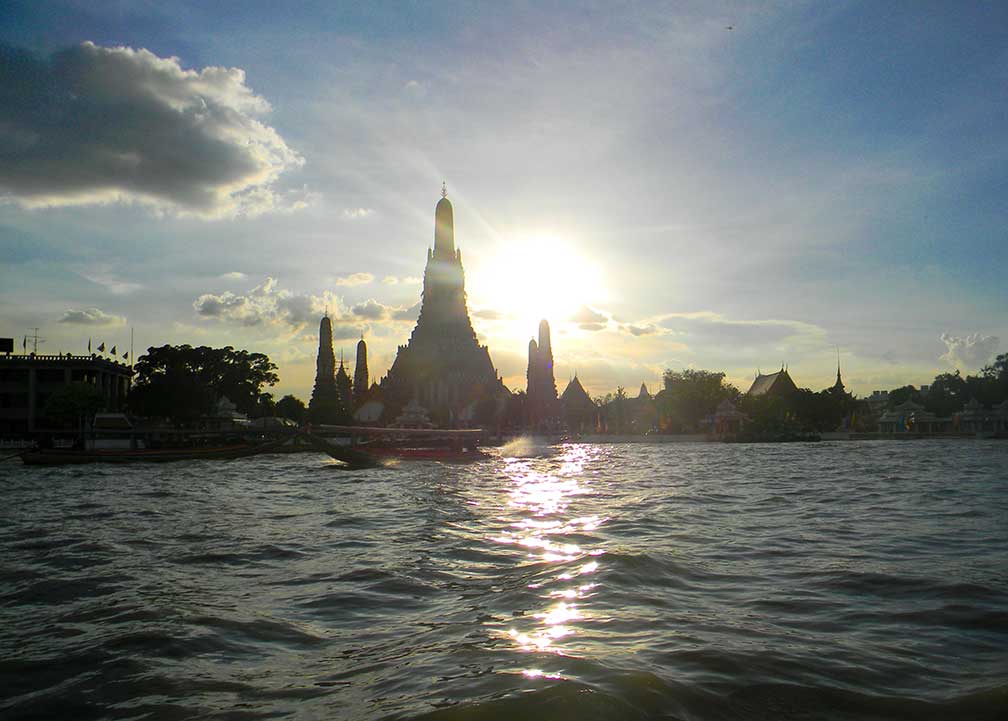 Image: © Nations Online Project

Wat Pho, one of Thailand's six first-class royal temples, a Buddhist temple complex adjacent to the Grand Palace, it is famous for its huge 46 m long Reclining Buddha. Wat Pho was built in the 16th century, it was the earliest center for public education in Thailand, until today it is a major center of Thai medicine and Thai massage, Wat Pho offers four basic courses of Thai medicine: Thai massage, Thai midwife-nurse, Thai pharmacy, and Thai medical practice, it is a good place to get an authentic traditional Thai massage (watpho.com).

Wat Arun (The Temple of Dawn), the Buddhist temple at the west bank of the Chao Phraya River with its distinctive prang (spires) is one of the most recognizable landmarks in Bangkok. The royal monastery lies beside the Old Palace (Wang Derm Palace), the former royal palace of King Taksin, who ruled the Siamese (Thai) kingdom of Thonburi until establishment of Rattanakosin Kingdom in 1782.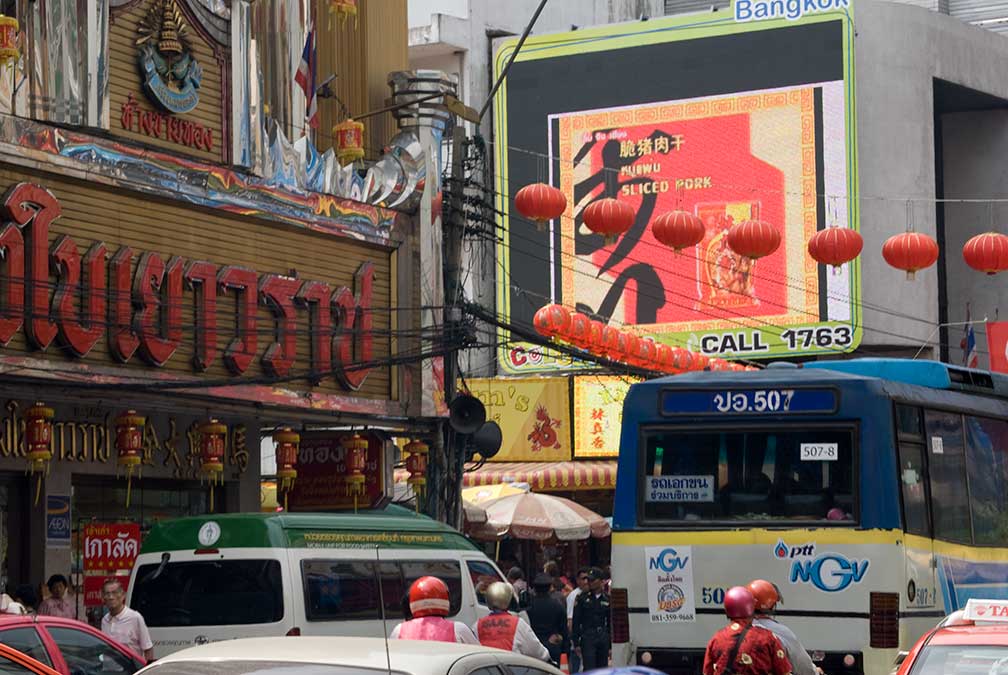 Image: © Nations Online Project

Chinatown (Samphanthawong district), Bangkok's Chinatown covers an area around Sam Pheng Lane, Yaowarat and Charoen Krung Road, it is the main hub for trading and the central point of Chinese culture of the Thai-Chinese community in Bangkok. The district has its roots in the (re)settlement of Chinese traders who operated maritime trade between the Kingdom of Siam and China in the 18th and 19th century. Yaowarat is Chinatowns arterial street, there and in the small vivid lanes branching off Yaowarat is the vibrant pulse of the trading community of this district, there are Chinese restaurants and gem and jewelery shops abound, drugstores selling Chinese traditional medicine, and stalls offering fruits, nuts, herbs, seafood and spices, other shops are specialized in decorative Chinese figurines, Chinese lucky charms, Joss Paper and other items used in Chinese rituals. Chinatown houses several temples, most famous is Wat Traimit where the Golden Buddha is enshrined, a 5.5 tons solid gold Buddha image. The oldest Chinese temple in Thailand is Leng Buai Ia, the small shrine is located off Itsaranuphap lane (Yaowarat Soi 6), a narrow walkway between shops selling any kind of fresh and dried foodstuffs, fruits and vegetables.

Erawan Shrine, located next to the posh Erawan Hotel at the busy junction of Ploen Chit and Ratchadamri road, the shrine consists of a spirit house (pteah phum) that contains a golden image of Brahma, the four-faced Hindu god of creation, known in Thailand as Phra Phrom. For the thrill-seekers, this is the site where on 17 August 2015, a bomb exploded killing 20 and injuring 125 more.


Other Attractions:

Museums: Bangkok National Museum, one of the largest museum in Southeast Asia houses a huge collection of Thai art and antiquities. The first public museum of Thailand was founded by King of Siam Rama V (Chulalongkorn) in 1874. Vimanmek Mansion, the former royal villa of King Chulalongkorn (Rama V) is situated in Bangkok's Dusit District within the Dusit Palace complex, a compound of royal residences including the Ananta Samakom Throne Hall, an audience hall for the palace and a museum, and the Chitralada Palace, off limits for the general public since it is the residence of His Majesty Bhumibol Adulyadej, King of Thailand. National Museum of Royal Barges, houses a precious collection of historic royal barges

Visual arts: Bangkok Art and Culture Centre - BACC, contemporary art museum and meeting point for artists, situated just opposite MBK (bacc.or.th). Museum of Contemporary Art - MOCA, modern art museum on Vibhavadi Rangsit road, 10 minutes by taxi from Chatuchak/Mo Chit BTS Station (mocabangkok.com). The Queen's Gallery, established in 2003, the gallery shows works of upcoming and established Thai artists (queengallery.org), it also runs the annual Bualuang 101 Art Competition (bualuang101.kapook.com). The Art Center, at Center of Academic Resources, Chulaongkorn University has re-opened after renovation, a venue for specialists to experiment, innovate and challenge previous perceptions in order to re-define new ideas (car.chula.ac.th/art/). Bangkok National Art Gallery, art museum in the building of the former Royal Mint, showcases a collection of traditional and contemporary works of Thai visual artists, including paintings created by past and present Kings of Thailand.

Shopping: Central World, is in the top 10 of the largest shopping malls in the world. Siam Paragon, upscale shopping center with label stores, restaurants and a multiplex movie theater, within the building is also the Sea Life Ocean World aquarium. Terminal 21, at Asok intersection, a nine stories, one floor one theme shopping mall and a 42 stories adjoining hotel. MBK (Mahboonkrong), eight stories shopping mall sells some authentic and a lot not so authentic merchandise. Chatuchak Weekend Market (JJ Market), boasts to be the world's largest weekend market, open four days a week but really interesting for tourists only on Friday evening (night market), Saturdays and Sundays. Pantip plaza, huge electronics mall on Petchaburi Road. Srinakarin Talat Rod Fai (train market), the night market was established originally near JJ Market on an area with abandoned railroad tracks, now the market resides behind Seacon Square shopping mall in Prawet District. Flower Market (Pak Khlong Talat), on Chakphet Rd is Bangkok's primary flower market. Papaya Vintage Shop, a vintage lover paradise on Lat Phrao 55 Saphansong (papaya55.com).

Parks: Lumphini Park, this large green square in Bangkok's central business district was the first public park in the city, created by King Rama VI on royal property and named after Buddha's birthplace in Nepal. It is a good place to escape the hectic rush of the city for some time.

Other 'highlights': Shrine of Goddess Tubtim (Chao Mae Tubtim), a fertility garden shrine with a collection of phalluses. Khaosan Road, lane catering the international backpacker society.

Just zoom in (+) to see the Grand Palace, built in 1782. and until mid-20th century the official residence of the King of Thailand. In the north-eastern corner of the complex there is Wat Phra Kaew, the Chapel Royal of the Emerald Buddha, the most sacred Buddhist temple (wat) in Thailand.

The Map shows a city map of Bangkok with expressways, main roads and streets. Zoom out to see the The map shows the location of Don Muang, Bangkok's "Old" International Airport (IATA code: DMK) 25 km (15.5 mi) by road (via Don Muang Tollway) in north-northeast of the CBD, and the "new" Suvarnabhumi Airport

Bangkok's international airport (IATA code: BKK) 32 km (20 mi) by road (via Sirat Tollway) east of the city center.


To find a location use the form below.