Searchable Map and Satellite View of P'yongyang using Google Earth Data
Satellite view is showing Pyongyang, the national capital of

North Korea, located at the Taedong River about 40 km (25 mi) east from the Korea Bay of the Yellow Sea.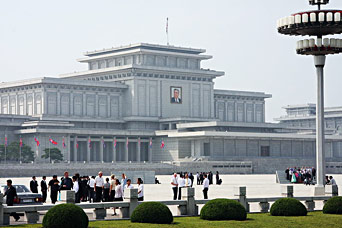 Image: Mark Scott Johnson

Pyongyang is the oldest city on the Korean peninsula, it was first mentioned in records in 108 BC. It developed as an industrial city during the years of Japanese occupation 1910–45.

Today the city has a population of about 3.25 million inhabitants (census 2008).

Spoken language is Korean P'yŏngan dialect.

The map shows just the location of Pyongyang up to now without expressways, main roads and streets, zoom out to find the location of Sunan International Airport (IATA code: FNJ) 24.5 km (15 mi) by road northwest of the city center.


To find a location try the form below.

To find a location type: street or place, city, optional: state, country.


Local Time Pyongyang:

Sunday-January-23 00:44 UTC/GMT +9 hours