Searchable Map and Satellite View of Sendai using Google Earth Data

Satellite view showing Sendai, the largest city in Tōhoku in Japan. The capital city of Miyagi Prefecture is located about 370 km (230 mi) north of Tokyo, in a hilly region with dormant volcanoes, near the northeastern coast of Honshu, Japan's main island.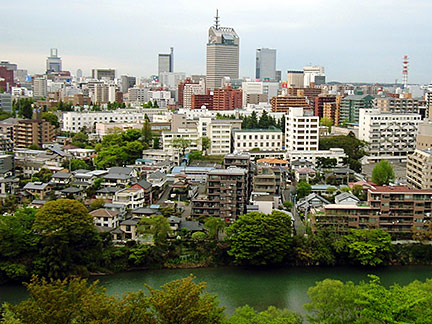 Image: Kinori

The city was 'founded' 1n 1600 by Date Masamune, a regional landlord (daimyo) of that time. 300 years later the first railway was built between Sendai and Tokyo. Some years later in 1907 Tohoku Imperial University, Tōhoku's first university was founded. In 1913 it became the first Japanese university to admit female students. At the end of the 19th century the then city had a population of more than 85,000 people.
Today Sendai has a population of about 1 million inhabitants (2014).

One of the 'Three Views of Japan' Matsushima, a group of tiny islands covered with pine trees, is near Sendai, in Matsushima-shi.

Sendai has been shaken by several major earthquakes in recent history, in 1978 and in 2005, on 11 March 2011, an 8.9 earthquake with its epicenter 70 km (45 mi) east of Sendai, and a following tsunami hit the city, causing major damage. Sendai airfield was submerged when the tsunami wave swept across the airport, and through the city, washes away everything that was in it, cars, trucks, even buildings. When the water was gone an inconceivably amount of debris littered the streets of Sendai. Sendai's JX refinery on the outskirts of the city went up in flames.

The map shows a city map of Sendai with expressways, main roads and streets, and the location of Sendai Airport (IATA code: SDJ).

To find a location use the form below.

To find a location type: street or place, city, optional: state, country.


Local Time Sendai:

Wednsday-September-27 20:22

UTC/GMT +9 hours