About Bucharest

Satellite view is showing Bucharest, largest city and the national capital of

Romania, a country in Southeastern-Central Europe, with a coastline at the Black Sea in east. The city is located in the southeast of the country on the banks of the Dâmboviţa River.

Bucharest is the country's industrial and financial center and a major transportation hub in Eastern Europe. It is also the center of Romanian media, culture and art, home to the National Museum of Art and the National Library of Romania.

Bucharest is seat of the Romanian Government and has a population of about 2 million inhabitants (2013).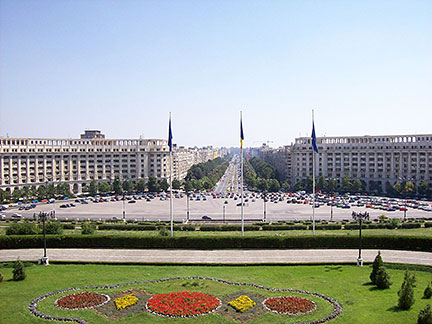 Some points of interest:
Palace of the Parliament (seat of the Romanian Parliament), Romanian Athenaeum (concert hall), Herăstrău Park (park and lake), National Village Museum (open-air museum about traditional Romanian village life), Museum of the Romanian Peasant (textiles, icons, ceramics), National Museum of Natural History (natural history), National Museum of Romanian History (Romanian history), National Museum of Art of Romania (collections of medieval and modern Romanian art), National Museum of Contemporary Art (contemporary art), National Geology Museum (rocks, fossils, and minerals), Cotroceni Palace (residence of the Romanian President), Curtea Veche (princely residence of Vlad III Dracul), Romanian Patriarchal Cathedral (Romanian Orthodox Church), Bucharest Botanical Garden (flowers and trees), Tineretului Park (public park), Jewish Museum (history of the Jews in Romania), Pasajul Macca-Vilacrosse (glass covered arcaded street)

Just zoom in (+) to see the Palace of the Parliament, the world's largest civilian administrative building.

The Map shows a city map of Bucharest with expressways, main roads, and streets, as well as the location of Aurel Vlaicu International Airport (IATA code: BBU), zoom out to find Henri Coandă International Airport (IATA code: OTP) also known as Bucharest Otopeni International, located in Otopeni in a distance of 16.5 km (10.3 mi) north of Bucharest.

To find a location use the form below.



To find a location type: street or place, city, optional: state, country.


Local Time Bucharest:

Friday-December-8 15:31

Standard Time Zone (EET): UTC/GMT +2 hours
Daylight Saving Time in use from end of March until end of October: time zone offset: UTC/GMT +3 hours