About Sevastopol

Satellite view is showing Sevastopol, a major seaport in

Ukraine, located on the southwestern tip of the

Crimean Peninsula at Sevastopol bay, an inlet of the Black Sea and the outlet of the Chorna River. It is the largest city in Crimea.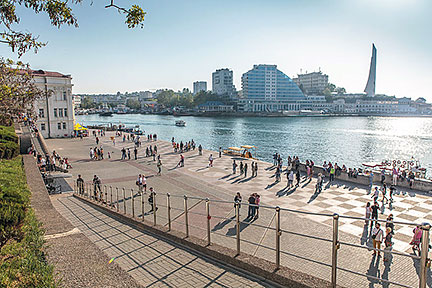 Image: J29

Sevastopol was founded in 1783 as a base for a naval squadron under the name Akhtia, soon after Russia annexed the Crimean Khanate, a state ruled by Crimean Tatars from 1441 to 1783.

The city's strategic position near the 'center' of the Black Sea, and its protected port made it an ideal location for a navy base, today the Ukrainian Navy as well as the Russian Black Sea Fleet are based there. In Soviet times the harbor served as a main port for the Soviet submarines.

Sevastopol is a multi ethnic city with a population of about 380.000 people (est. 2013), almost 1 million people live in its urban area. There are more Russians (70%) living in the city than Ukrainians (22%) Spoken languages are Russian and Ukrainian.

The map shows a city map of Sevastopol with expressways, main roads and streets, as well as the location of "Belbek" Sevastopol International Airport (IATA code: UKS) about 7 km (4.3 mi) southwest from the city center. Sevastopol's harbor is to the north, nearby are the Potemkin Stairs, the giant stairway is the formal entrance leading from the port into the city.

To find a location use the form below.

To find a location type: street or place, city, optional: state, country.


Local Time Ukraine:

Sunday-June-4 00:48

Standard Time: UTC/GMT +2 hours.
Daylight saving time from end of March till end of October: UTC/GMT +3 hours.