About Ukraine

Map is showing the eastern European country, bordering the Black Sea in the south and the Sea of Azov in south east. Countries with international borders to Ukraine are Belarus, Hungary, Moldova, Poland, Romania, Russia, and Slovakia, it shares maritime borders with Georgia and Turkey.

An area of 600,000 km² making Ukraine the second largest country in Europe after Russia, it is twice the size of Italy or slightly smaller than the U.S. state of Texas.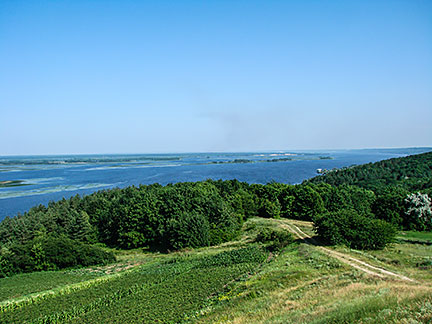 Ukraine's landscape consists mainly of plains and plateaus, only the Carpathian mountains in the west reach 2,061 m (6,760 ft.) at Mount Hoverla (Hora Hoverla), the highest mountain in the country. The Dnieper (Dnipro) is the longest river in Ukraine and an important navigable waterway. The river is also important for its large water reservoirs, the 149 km long, 28 km wide Kremenchuk Reservoir and the 240 km long, up to 23 km wide Kakhovka Reservoir are the largest.

The country has a population of 45.4 million people, capital city is

Kiev (Kyiv, Київ).

The map shows Ukraine with cities, towns, expressways, main roads and streets.
To find a location use the form below.
River
To find a location type: street or place, city, optional: state, country.


Local Time Ukraine:

Saturday-June-3 07:21

Standard Time: UTC/GMT +2 hours.
Daylight saving time from end of March till end of October: UTC/GMT +3 hours.