Map is showing Hungary and the surrounding countries with international borders, county boundaries, county capitals,
and the national capital Budapest.



Primary Administrative Regions of Hungary
Hungary is divided into 20 regions comprising 19 counties (megyék, singular: megye) and the capital city (főváros): Budapest.
The map shows Hungary's counties and their capital cities (in parenthesis):
Bács-Kiskun (Kecskemét), Baranya (Pécs), Békes (Békéscsaba), Borsod-Abaúj-Zemplén (Miskolc), Csongrád (Szeged), Fejér (Székesfehérvár), Győr-Moson-Sopron (Győr), Hajdú-Bihar (Debrecen), Heves (Eger), Jász-Nagykun-Szolnok (Szolnok), Komárom-Esztergom (Tatabánya), Nógrád (Salgótarján), Pest (Budapest), Somogy (Kaposvár), Szabolcs-Szatmár-Bereg (Nyíregyháza), Tolna (Szekszárd), Vas (Szombathely), Veszprém (Veszprém), and Zala (Zalaegerszeg).

Click on the map for a Political Map of Hungary.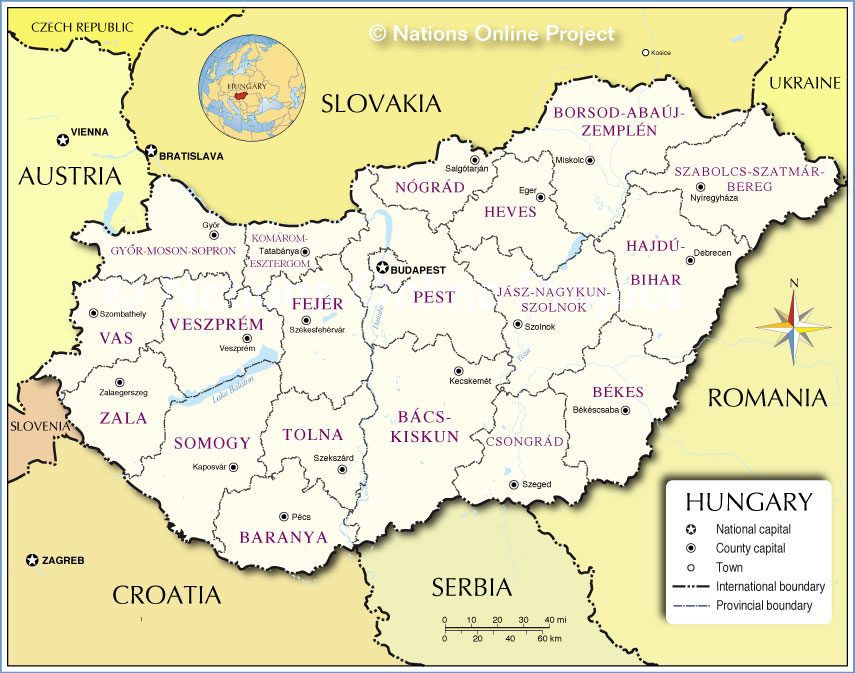 Administrative Map of Hungary