About Benin

Satellite view is showing the tropical Sub-Saharan country of Benin, located on the south side of West Africa between Togo and Nigeria. From its northern border it extends 660 km to its coastline at the Bight of Benin (part of the Gulf of Guinea) in south. It is bordered by Burkina Faso in north west the Niger River marks the border with Niger, in north.

The country occupies an area of 112,622 km² making it slightly larger than Bulgaria, or slightly smaller than the U.S. state of Pennsylvania. Until 1975 Benin was known as Dahomey.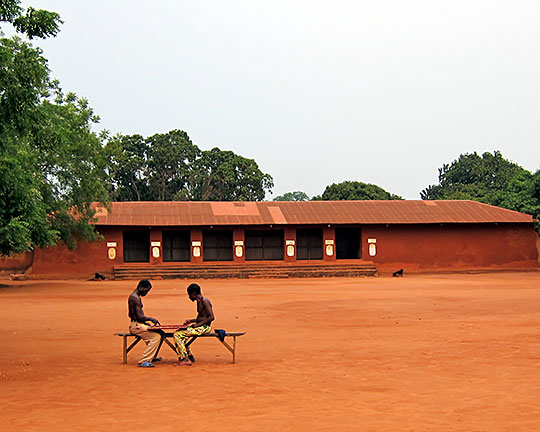 Image: Cordelia Persen

Benin has a population of 10 million people (est. 2016), the majority of the inhabitants live in the coastal region.

There are more than 40 ethnic groups in Benin, major groups are the Fon (in the south), the Yoruba (in the southeast near Nigeria), the Dendi people (in central and north), the Fulani (in the northeast), and the Betammaribe (in the Atacora Range).

Official

language is French, main languages spoken in Benin, beside French, are Fon, Aja, Gbe, and Yoruba languages.

Capital city is Porto-Novo, while Cotonou is the economic capital of Benin and its largest city. Other major urban centers are Abomey-Calavi, a suburban of Cotonou; Djougou, an important market town and the commercial capital of the Atacora-Donga region in northwestern Benin; Parakou, most populous city in eastern Benin and the terminus of the railway to Cotonou. Tchaourou (Saworo), a major, mainly agricultural town in the Borgou Department .

The map shows Benin with cities, towns, expressways, main roads and streets.

To find a location use the form below.

To view just the map, click on the "Map" button.

To find a location type: street or place, city, optional: state, country.


Local Time Benin:

Friday-December-8 22:43

UTC/GMT +1 hours