About Sierra Leone

Satellite view is showing the tropical country in West Africa, situated between Guinea and Liberia, bordering the North Atlantic Ocean with a 400 km long coastline of low-lying mangrove swamps, cut in on and off by some estuaries and several wide, sandy beaches and by a mountainous Sierra Leone Peninsula.
The eastern half of the country is mountainous. Mt. Bintumani (Loma Mansa) is located there, with 1,945 m (6,381 ft)  the highest point in Sierra Leone.

The country covers an area of 71,740 km² making Sierra Leone slightly larger than Ireland or slightly smaller than the U.S. state of South Carolina.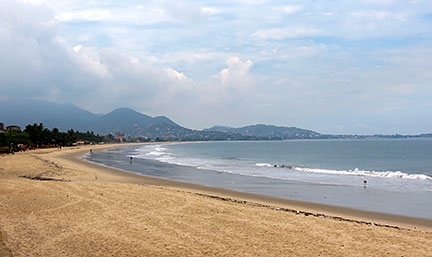 Image: Erik Cleves Kristensen

Sierra Leone has a population of 6.3 million people (in 2015), largest city, chief port, and the national capital is Freetown with almost 1 million inhabitants. Other urban centers are Bo (Bo Town), the leading financial, educational, and commercial center in the Southern Province; Kenema, capital of Kenema District and the most ethnically diverse city in Sierra Leone; Makeni, fourth largest city and capital of Bombali District; Koidu Town (Sefadu), known as a major diamond trade center; Lunsar, a former iron ore mining town. Spoken languages are English (official), Sierra Leone Krio is spoken by 90% of the population.

Sierra Leone is a predominantly Islamic country with 60% Muslims; 10% Christians; and 30% believers in traditional African religion.

The map shows Sierra Leone with cities, towns, main roads and streets.

To find a location use the form below.

To find a location type: street or place, city, optional: state, country.


Local Time Sierra Leone:

Wednsday-December-1 12:40

No GMT/UTC time offset, GMT/UTC +0 hour