About Bratislava

Satellite view is showing Bratislava, formerly also known as Pressburg, largest city and capital of

Slovakia, a central European country east of Austria and until 1993 part of former Czechoslovakia.

Bratislava is located in the southwestern part of the country, at the confluence of the Danube and Morava rivers, at the country's border to Austria.

The city is inhabited since the Bronze Age (c. 3200–600 BC), it was a settlement at an important ford used to cross the Danube river, a crossroads of ancient (trade) routes like the Amber Road, connecting the Balkans or the Adriatic Sea to the Rhine river or the Baltic Sea. It was a town where people, goods, and ideas from many areas came together.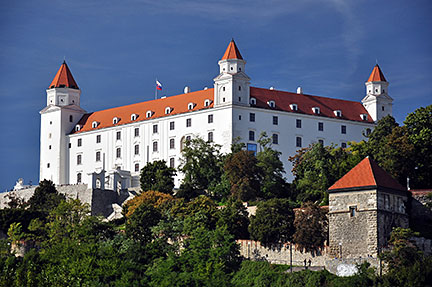 -

Photo: LMih

Today the city is the political, cultural, and economic center of Slovakia. Bratislava has a population of about 420,000 inhabitants (2014). 80 km west of Slovakia's capital lies the Austrian capital Vienna, the combined metropolitan areas of both cities forms an urban region with 3 million inhabitants, it is referred to as the Bratislava – Vienna Twin City Region.

Some points of interest: Bratislava Castle (the main castle of Bratislava built in the 9th century), Devín Castle (ruin of one of many fortresses built near the Danube ford), Michael's Gate (medieval city gate), Grassalkovich Palace (residence of the president of Slovakia), Old Town of Bratislava (historic city center), Roland Fountain (famous fountain), Bratislava City Museum (history of Bratislava, archaeological discoveries and findings), Slovak National Theatre (opera, ballet and drama), Slovak National Museum - SNM (center of Slovakia's museum activity), Slovak National Gallery (art in the Esterházy Palace), Schloss Hof (Baroque style castle of Prince Eugene of Savoy), Trinitarian Church (a Baroque-style church), Wooden churches of the Slovak Carpathians (nine wooden religious buildings constructed between the 16th and 18th centuries, a UNESCO World Heritage Site

).

Just zoom in (+) to see Bratislava Castle, the main castle of Bratislava directly above the Danube river in the center of the city.

The map shows a city map of Bratislava with expressways, main roads and streets, and the location of M. R. Štefánik Airport (IATA code: BTS), about 9 km (5.6 mi) east northeast of the city. Zoom out to find the location of Austria's Vienna International Airport (IATA code: VIE), about 63 km (39 mi), by road (via A6 and A4) west of Bratislava.

To find a location use the form below.

To find a location type: street or place, city, optional: state, country.


Local Time Bratislava:

Wednsday-June-20 05:59

Standard Time Zone (CET): UTC/GMT +1 hour
CEST (Daylight Saving Time) in use from end of March until end of October. Time zone offset: UTC/GMT +2 hours