About Moscow

The map showing Moscow, the national capital and largest city of the

Russian Federation.
The city is located at the center of European Russia, on the Moskva River.

Moscow became the capital when Ivan the Terrible proclaimed himself the first tsar in the 16th century. Peter the Great moved his capital to St. Petersburg in 1712, but, after the Bolshevik Revolution of 1917, Moscow was made the capital of the Soviet Union and seat of the new Soviet government, with its center in the Kremlin.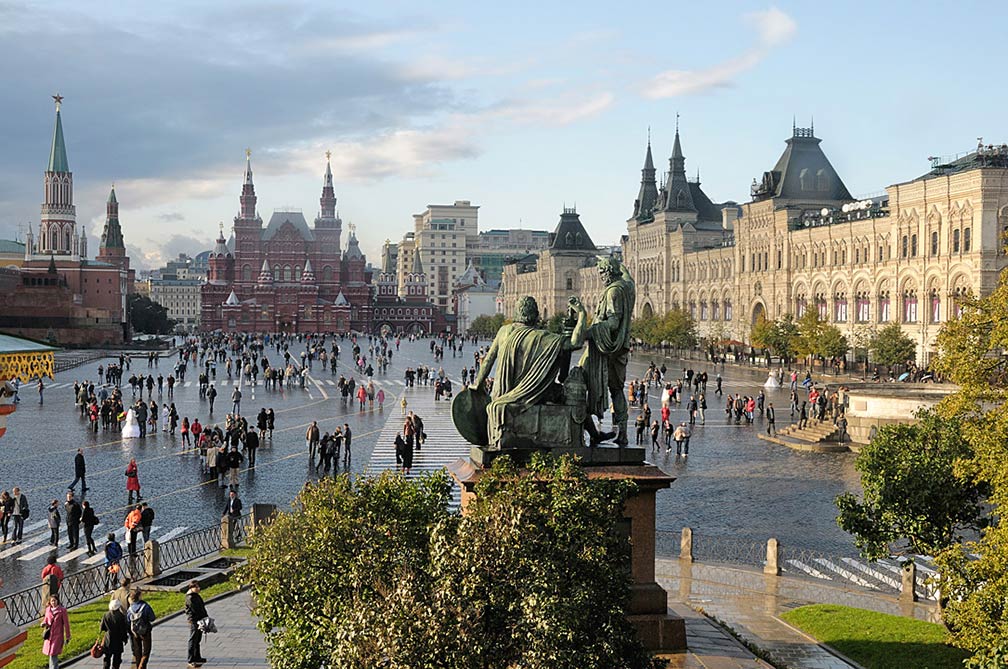 Image: Christophe Meneboeuf

Today the city is the country's political, economical, and financial center. More than 10 million people live in its metropolitan area.

Just zoom in (+) to see the Saint Basil's Cathedral and the Moscow Kremlin (Кремль) at the Red Square, the famous city square in the heart of Moscow, north of the Moskva River. The complex is now a UNESCO World Heritage Site.



Some other points of interest: Bolshoi Theatre (historic theatre with ballet and opera), Tretyakov Gallery (Russian fine art), Kremlin Armoury (Applied arts and Fabergé eggs), Gorky Park (eco-friendly recreational zone), Pushkin Museum (Fine Art and Archaeological Collection), VDNKh (Exhibition of Achievements of the People's Economy), Lenin's Mausoleum (resting place of Vladimir), Novodevichy Convent (best-known cloister of Moscow and a World Heritage Site

), State Historical Museum (priceless artworks), Kuskovo (estate with a museum of ceramics), Moscow Zoo (has also bears), Memorial Museum of Cosmonautics (history of Russian space exploration).


The Map shows a city map of Moscow with expressways, main roads and streets.

Moscow's three major airports:
Zoom out to find the location of
Domodedovo International Airport (IATA code: DME) located in a distance of 45 km (28 mi) by road south of the center of Moscow,
Sheremetyevo International Airport (IATA code: SVO) is located in a distance of 30 km (19 mi) north-west of the city.
Vnukovo International Airport (IATA code: VKO) is located in a distance of 32 km (20 mi) by road southwest of Moscow's city center.

To find a street or a location use the form below.

To find a location type: street or place, city, optional: state, country.


Local Time Moscow:

Friday-April-20 06:48

Moscow Standard Time (MSK): UTC/GMT +3 hours