About Kiev

Satellite view is showing Kiev, largest city and the national capital of

Ukraine. The city is located on both sides of the Dnieper River in the north central part of the country.

Kiev is the industrial, scientific, educational, and cultural center of Ukraine. The city has a population of about 2.85 million inhabitants (in 2013). Official language is Ukrainian.

Just zoom in (+) to see Maidan Nezalezhnosti, the Independence Square, Kiev's central square and the center of public political activity.

The city is home to National Taras Shevchenko University KNU, founded in 1834, ranked as the best university in Ukraine.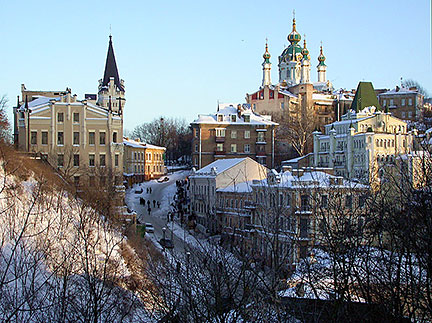 Image: R. Lezhoev

Some points of interest:
Saint Sophia's Cathedral (Kievan Rus' Eastern Orthodox Cathedral) is a UNESCO World Heritage Site, Kiev Cave Monastery complex (Kiev-Pechersk Lavra with Great Lavra Bell Tower), a UNESCO World Heritage Site

. Maidan (the city's main square), the Ukrainian National Chornobyl Museum (nuclear disaster documentation), Ukraine State Aviation Museum (Soviet technology), Hydropark (outdoor water sports), Kiev Fortress (19th century fortification), National Art Museum of Ukraine (Ukrainian figurative art), Kyiv in Miniature (miniature kiev), Church of the Tithes (first stone church in Kiev (989 AD), ruined in 1240 by Mongol armies, and in 1928 destroyed by the Soviet regime), Kiev Planetarium (show with stars), Gogolfest (annual international festival of contemporary art and cinema), Golden Gate (major landmark of Ancient Kiev), Pyrohiv (Outdoor Museum of Folk Architecture and Life of Ukraine)


The map shows a city map of Kiev with expressways, main roads and streets, as well as the location of Kyiv International Airport (IATA code: IEV).

Zoom out to find the location of Boryspil International Airport (IATA code: KBP) about 36 km (22 mi) by road (via Е40), southeast of the city center.

To find a location use the form below.


To find a location type: street or place, city, optional: state, country.


Local Time Ukraine:

Thursday-May-24 13:00

Standard Time: UTC/GMT +2 hours.
Daylight saving time from end of March till end of October: UTC/GMT +3 hours.