Searchable Map and Satellite View of Martinique using Google Earth Data
Satellite view is showing Martinique, the Caribbean island in the Lesser Antilles group bordering the Caribbean Sea and the North Atlantic Ocean, between

Dominica (north) and

Saint Lucia (south).

Martinique is the 3rd largest island in the Lesser Antilles after Trinidad and Guadeloupe. With an area of 1,100 km² (436 sq mi) it is slightly smaller than the Faroe Islands, or slightly more than six times the size of Washington, DC.

Martinique has a population of 390,000 people (in 2012). Capital city is Fort-de-France. Spoken languages are French (official) and French Creole. The island has been a high-end vacation hotspot for many years.

The map shows Martinique with cities, towns, expressways, main roads and streets, and the location of Martinique Aimé Césaire International Airport/Lamentin Airport (IATA code: FDF).

To find a location use the form below.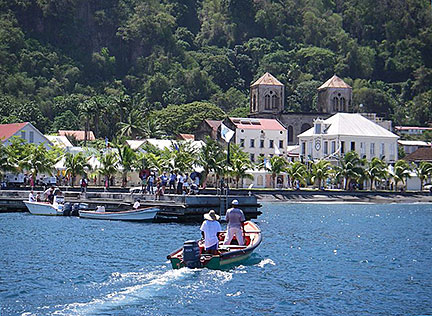 Saint-Pierre, Martinique, seen from the harbor.
Image: Jean & Nathalie

To find a location type: street or place, city, optional: state, country.


Martinique actual time: Time zone: Atlantic Standard Time (AST) :: GMT (UTC): - 4h