Satellite View of Virgin Islands using Google Earth Data
Satellite view is showing the Caribbean islands between the Caribbean Sea (in south) and the North Atlantic Ocean (in north), at the eastern end of the Greater Antilles, east of Puerto Rico.

The Virgin Islands are divided between U.S. and British administration.
In east, the British Virgin Islands (BVI), a British overseas territory, capital city is Road Town (on Tortola island).

In west the U.S. Virgin Islands, a former Danish colony, today an insular area of the U.S., and a

United States Territory. The islands were purchased from Denmark in 1917 because of their strategic position. Capital city is Charlotte Amalie (on St. Thomas island).

The Virgin Islands are geograhically relative close to: Antigua and Barbuda, Montserrat, and St. Kitts and Nevis.

On the map you see the Virgin Islands, with cities and main roads and all airports of the archipelago.


To find a location use the form below. To view just the map, click on the "Map" button.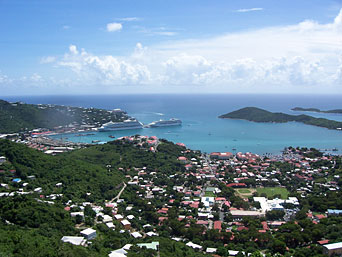 Charlotte Amalie, St. Thomas Island, US VI.