About the Virgin Islands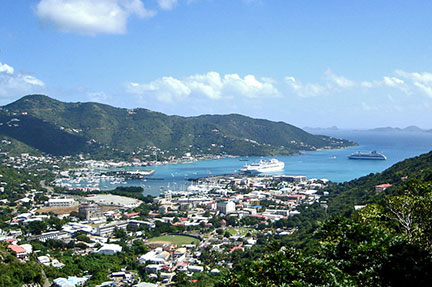 Roadtown, Tortola island, BVI.

Image: Henry

Map is showing the Caribbean archipelago of approximately 100 islands and islets between the Caribbean Sea (in south) and the North Atlantic Ocean (in north), at the eastern end of the Greater Antilles, east of Puerto Rico.

The islands are at an important location along the Anegada Passage, a key shipping lane for the Panama Canal, the strait passes the British and the US Virgin Islands.

The Virgin Islands are divided between the United States and the United Kingdom.

British Virgin Islands
In east, the British Virgin Islands (BVI), a British overseas territory, 16 of the British Virgin Islands are inhabited. The most important ones are Anegada, Tortola, and Virgin Gorda, and Jost Van Dyke. The islands were acquired from the Dutch in 1666.

The BVI has a population of 28,000 people, capital city and main harbor is Road Town (on Tortola island).
The economy is based mainly on Tourism, but the BVI are also one of the British overseas tax havens (the others are, the Caymans Islands and the Turks & Caicos), used by Asian palm oil giants and logging companies, but also by FIFA officials.

U.S. Virgin Islands
In west the U.S. Virgin Islands, a former Danish colony, today an insular area of the U.S., and a

United States Territory.

Since mid 19th century the United States made several attempts to expand its influence into the Caribbean. In the midst of World War I the United States were concerned about the defense of the newly built Panama Canal , and were also worried that Germany might annex Denmark, in which case the Germans might also secure the Danish possessions in the West Indies as a naval or submarine base. In 1917 the United States were able to purchased the islands from Denmark for $25 million in gold coin.

USVI has a population of 106,400 people. Capital and largest city is Charlotte Amalie (on St. Thomas island). Saint Thomas is famous for one of the best natural deepwater harbors in the Caribbean.

The economy of the US Virgin Islands is largely based on tourism and related services, rum exports, and trade. The islands host nearly 3 million tourists per year, most of them from visiting cruise ships. The agriculture and fishing sector of the islands is small, most food has to be imported.

Spanish Virgin Islands
The main islands are Culebra and Isla de Vieques, both are island-municipalities of Puerto Rico, located east of the main island.

The Virgin Islands are geographically relative close to: Antigua and Barbuda, Montserrat, and St. Kitts and Nevis.

On the map you see the Virgin Islands, with cities and main roads and all airports of the archipelago. Zoom out to see the location of the Virgin Islands within the Caribbean.


To find a location use the form below. To view just the map, click on the "Map" button.

To find a location type: street or place, city, optional: state, country.


Local Time

Charlotte Amalie

:

Monday-July-6 15:58

UTC/GMT -4 hours