About Stonehenge
Annotated Satellite view is showing Stonehenge, a Neolithic monument located in the English county of Wiltshire, about 8 miles (13 km) north of Salisbury. It is one of the most famous prehistoric sites in the world and one of the oldest, built around 3100 BC. Main features on the map are stone circles of Stonehenge, the Avenue, the ancient avenue on Salisbury plain (yellow line on the map), the Cursus, a 3 km long and about 100 m to 150 m wide Neolithic cursus, several hundred years older than the stone circles of Stonehenge, the Durrington Walls, another mystery 3 km north-east of Stonehenge, it is the largest henge ever discovered, measuring nearly 500 m in diameter, the oval shaped henge had four entrances, it is possibly the site of a village where the builders of Stonehenge lived, Woodhenge, a timber circle monument, it was a kind of artificial forest surrounded by a ditch located 3 km north-east of Stonehenge at the edge of the Durrington Walls, Normanton Down Barrows, a field of Neolithic and Bronze Age barrows located about 1 km to the south of Stonehenge. The satellite image shows an immense amount of various barrows, and other earthwork enclosures.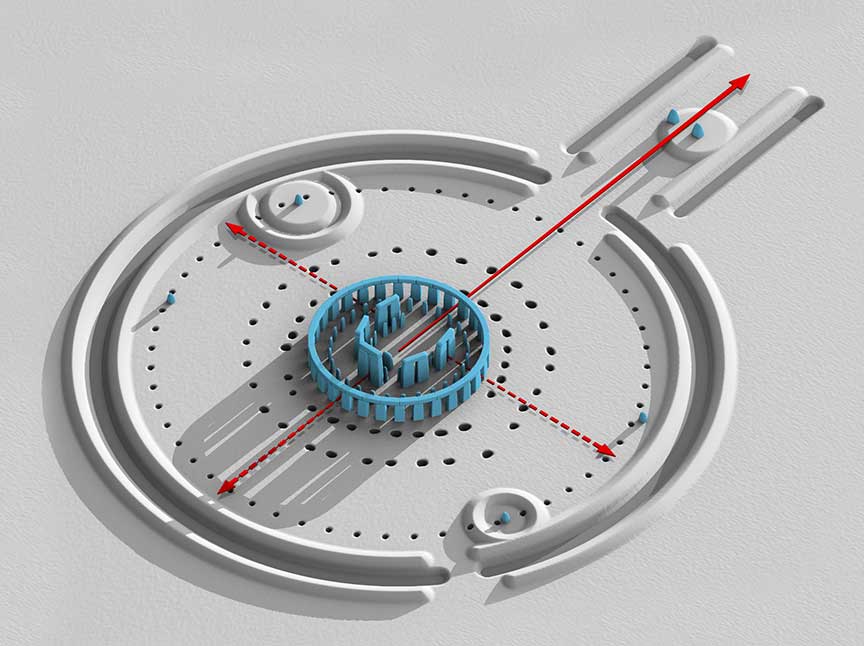 Image: Joseph Lertola

The main sanctuary consist of circles of menhirs arranged in a pattern whose astronomical significance is still being explored. New archaeological evidence indicates that Stonehenge might has served as a center of healing, other theories propose that it was a burial ground or a place to worship ancestors.

Anyhow, the people who built Stonehenge must have been of the opinion that the stones and the place harbor great powers, otherwise they wouldn't have carried the stones (the largest weighs as much as 50 tons) over 240 km (150 miles) to the place where they were erected.

More unknown archaeological monuments hidden in the Stonehenge landscape have been discovered recently by archaeologists of the "Stonehenge Hidden Landscape Project". In 2014 the University of Birmingham announced findings including evidence of adjacent stone and wooden structures and burial mounds, overlooked previously, that may date as far back as 4,000 BC.