About the Great Wall of China
Satellite view is showing the Great Wall of China (simplified Chinese: 长城; traditional Chinese: 長城; pinyin: cháng chéng; literally "Long (city) wall ").

"The long wall of 10,000 Li (里)" is a series of stone and earthen fortifications in China, built, rebuilt, and maintained between the 6th century BC and the 16th century.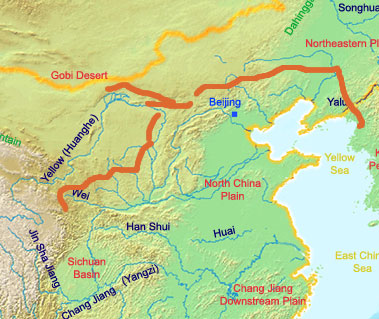 The wall(s) were built during the rule of successive Chinese dynasties to protect the northern borders of the Empire, to prevent the incursions and recurrent attacks of the Xiongnu (匈奴), a confederation of nomadic tribes who lived on the steppes north of China. To the Xiongnu, who lived mainly in the Ordos Desert a region poorly suited for agriculture, the settlements of imperial China must have appeared to them like self-service outlets.
Chinese emperor Qin Shi Huang who unified China in 221 BC ordered the destruction of the wall sections that divided his new empire along the former state borders and the building of new walls to connect the remaining fortifications along the empire's new northern frontier, this was the precursor version of the current Great Wall.

After Quin, the Han, Sui, Northern and Jin dynasties all repaired, rebuilt, or expanded sections of the Great Wall at great cost.
Today, while some portions north of Beijing and near tourist centers have been preserved and even reconstructed, in many locations the Wall is in disrepair.

On the map below, zoom out to find the location of various sections of the Great Wall.