About Fort-de-France

Satellite view is showing Fort-de-France, territorial capital of the French overseas department (département d'outre-mer) of

Martinique, the rugged Caribbean island with a blend of French and West Indian cultures.

The city is located at the coast of Fort-de-France Bay, at the mouth of Madame River. Fort-de-France has a city population of about 94,000 inhabitants and 135,000 live in its urban area. Official language is French, many inhabitants of Martinique also speak Antillean Creole.

Some points of interest: La Savane (Jardin du Roi; park), Jardin de Balata (botanical garden), Schoelcher Library (books), Fort St. Louis (fort and naval base), St. Louis Cathedral, Musee Departemental de la Martinique (museum), Musee Regional D'histoire et D'ethnographie (history museum), Les Grands Ballets Martiniquais (folkloric performance).

Just zoom in (+) to see the harbor of Fort-de-France with its cruise ship terminal.

The map shows a city map of Fort-de-France with expressways, main roads and streets, and the location of Martinique Aimé Césaire International Airport/Lamentin Airport (IATA code: FDF) in east.

To find a location use the form below.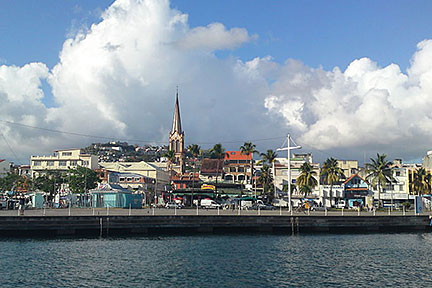 Fort-de-France with St. Louis Cathedral in center, Martinique.
Image: Jean-Louis Lascoux



Bookmark/share this page



To find a location type: street or place, city, optional: state, country.


Martinique actual time:

Time zone: Atlantic Standard Time (AST) :: GMT (UTC): - 4h