About the Dutch Antilles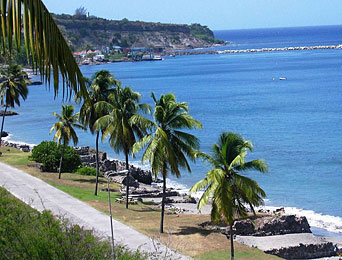 Photo: Walter Hellebrand

The Netherlands Antilles, also known as the as the Dutch Antilles, was an autonomous Caribbean country within the Kingdom of the Netherlands, it consisted of two widely separated groups of islands in the Caribbean Sea.

The satellite view is showing the northern group of the (former) Netherlands Antilles, located south of the British overseas territory of Anguilla island and east of Puerto Rico.

The northern group comprises the islands of St. Eustatius, St. Martin, and Saba.

Saint Martin (Sint Maarten) island is divided into a French part, which is now an overseas collectivity of France (until Feb. 2007 it belonged to the French overseas department of Guadeloupe); and a Dutch part, formerly the Island Territory of Sint Maarten. Since 10 October 2010 Sint Maarten is a constituent country of the Kingdom of the Netherlands with a population of 41,000 people (in 2012). Main town and capital is Philipsburg.

Princess Juliana International Airport (IATA code: SXM), a major airport in the Eastern Caribbean is located on the island, as well as the smaller French L'Espérance Airport (IATA code: SFG), .

The island of Sint Eustatius (the Dutch name; pop.: 3,600) locally called Statia, is situated northwest of Saint Kitts and Nevis. Capital is Oranjestad with a population of 1,000 (not to be confused with the Oranjestad the capital of Aruba of the same name). In the 18th century St. Eustatius was an important Dutch trading center for sugar and weapons. St. Eustatius was the major supplier of arms and ammunition to the rebellious British Colonies in North America and in 1776 it was the first foreign nation to officially recognize the newly formed United States.

Saba island (pop.: 1,800) is the smallest of the Dutch Caribbean islands, Mount Scenery, a volcano with an elevation of 877 m (2877 ft.) is actually the highest point in the Kingdom of the Netherlands.

Saint Eustatius and Saba have the status of Dutch municipalities.

Capital city of Netherlands Antilles was Willemstad (on Curaçao).

To view just the map, click on the "Map" button.