Searchable Map and Satellite View of Dominica using Google Earth Data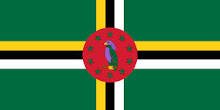 Satellite view is showing the island of

Dominica in the eastern Caribbean, south of Guadeloupe and north of Martinique. Dominica was the last of the Caribbean islands to be colonized by Europeans due to the fierce resistance of the native Caribs.

With an area of 751 km² (289.5 sq mi) the island is slightly larger than Singapore, or slightly more than four times the size of Washington, DC. The island has a coastline of 148 km, its landscape is mountainous of volcanic origin, highest Peak is Morne Diablotin with 1,447 m (4,747 ft).

The most northern of the Windward Islands has a population of of 72,000 inhabitants (in 2014). Capital and largest city is Roseau. Spoken languages are English (official) and a French based Antillean Creole (Kwéyòl).

Other Windward islands are: Grenada, Saint Lucia, and Saint Vincent and the Grenadines.

The map shows Dominica with cities, towns, expressways, main roads and streets. Dominica's main airport Douglas-Charles Airport (Melville Hall; IATA code: DOM) is located north east of the capital Roseau, 46 km by road via Dr Nicholas Liverpool Highway/Wiers Road, the smaller Cane Field Airport (IATA code: DCF) lies 5 km north of the capital (via Edward Oliver Leblanc Highway).

Zoom out to see the location of Dominica within the Caribbean Sea.

To find a location use the form below.

To find a location type: street or place, city, optional: state, country.


Local Time Dominica:

Friday-February-3 19:58

Atlantic Standard Time (AST) :: UTC/GMT -4 hours