About Willemstad, Curacao
Satellite View is showing Willemstad, today the capital city of Curaçao, the largest island in the former Netherlands Antilles. Before the dissolution of the Netherlands Antilles in 2010 the city was chief town and the territorial capital of the

Netherlands Antilles.
Curaçao is situated 37 miles (60 km) north of the coast of Venezuela.

Willemstad's historic city center consists of two quarters: Otrobanda, the cultural center of the city and Punda, established in 1634, they are separated by the St. Anna bay inlet. Willemstad is build around a natural harbour called the 'Schottegat'.

The city has a population of about 125,000 inhabitants. Official languages are Dutch, English, and Papiamento.

The Map shows a city map of Willemstad with main roads and streets, Curaçao International Airport (IATA code: CUR) in northwest.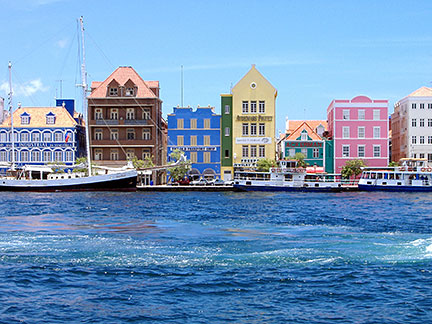 Handelskade, Willemstad harbor in Curacao.
Image: Mtmelendez



Bookmark/share this page



To find a location type: street or place, city, optional: state, country.


Local Time Curaçao: EDT (Eastern Daylight Time)

Tuesday-January-25 03:49

UTC/GMT -4 hours