About Basse-Terre
(Not to be confused with Basseterre, Saint Kitts and Nevis).

Satellite view is showing the municipality of Basse-Terre, second largest town and the sleepy capital of France's Caribbean overseas département of

Guadeloupe, a tropical island group in the Caribbean Lesser Antilles archipelago (West Indies), between the islands of Dominica in south and Antigua and Barbuda in north. The city is located on the south western coast of Basse-Terre, one of the two main islands.

Basse-Terre has a city population of about 12 000 inhabitants, 45 000 live in its urban area. Official language is French (99%), most locals also speak Creole language.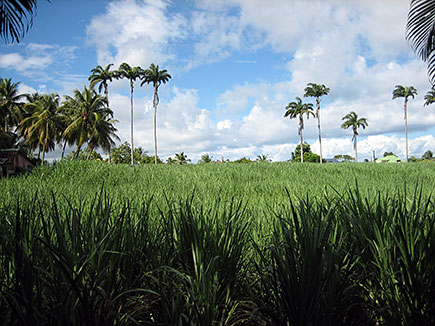 Sugar cane field and palm trees Basse-Terre, Guadeloupe.

Image: bobyfume

Some Points of interest: Cathedrale Notre Dame de la Guadeloupe (19th-century church), Guadeloupe National Park (UNESCO World Biosphere Reserve), and Grand Cul-de-Sac Marin Nature Reserve, La Soufrière (highest peak in the lesser Antilles 1,467 m, and an active volcano), Carbet Falls (cascades), St. Anne Beach (sunset spotting), Zoological and Botanical Park (garden and nature reserve), Pointe-a-Pitre (largest town and Guadeloupe's French-Caribbean shopping mall), Terre-de-Bas Island (Artillery battery ruins and fishing villages), Terre-de-Haut Island (Napoleon fort and botanical garden), Port-Louis and Plage du Souffleur (fishing village and beach), Marie-Galante Island (rum, sugar cane and windmills), Pigeon Island (Underwater Reserve Jacques Cousteau).

The map shows a city map of Basse-Terre with expressways, main roads and streets, zoom out to find the location of the island's primary airport Pointe-à-Pitre International Airport or Pointe-à-Pitre - Le Raizet Airport (Aéroport Guadeloupe Pôle Caraïbes, IATA code: PTP) located 62 km (38.5 mi) by road (via N1) north east of the city near Pointe-à-Pitre in the center of the island.

To find a location use the form below. To view just the map, click on the "Map" button.

To find a location type: street or place, city, optional: state, country.


Local Time Guadeloupe:

Friday-December-1 04:10

UTC/GMT -4 hours