About Trinidad and Tobago

Satellite view is showing the Caribbean islands of Trinidad and Tobago in the southern Caribbean, a nation northeast of Venezuela and south of Grenada.

Both islands were discovered by Christopher Columbus in 1498. Trinidad was settled by Spanish in 1577 and Tobago was settled by the English in 1616. The two islands were joined politically as a British colony in 1888. From 1958 to 1962 they were part of the short-lived West Indies Federation, together with Barbados and Jamaica and other former colonies of the United Kingdom. Trinidad and Tobago became independent in 1962.

With an area of 5,130 km², the island nation is about twice the size of Luxembourg or slightly smaller than the U.S. state of Delaware. Trinidad's landscape offers mostly plains with some hills and low mountains in north, within the Aripo Massif with the nations highest point, El Cerro del Aripo with 940 m. Tobago island is of volcanic origin and primarily hilly.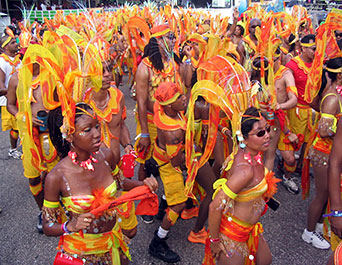 Carnival Masqueraders in Trinidad and Tobago.

Image: Mr. Jo

Trinidad and Tobago has a population of 1.3 million people. Spoken languages are Trinidadian Creole and Tobagonian Creole. Tobago's population is primarily of African descent, while Trinidad's population is more diverse with 36% Indian (descendants of people from India), 34% African, 7.66% Mixed - African and East Indian. Capital city is Port of Spain.

The country has one of the highest per capita incomes in Latin America. Trinidad and Tobago's economy is largely based on oil and natural gas (40% of GDP), tourism, small industry (food products and beverages) and agriculture.

The Map shows Trinidad and Tobago with expressways, main roads and streets, and the location of the two international airports of the twin islands: Trinidad's Piarco International Airport (IATA Code: POS) 24 km by road via Churchill Roosevelt Highway, east of Port of Spain, and Crown Point International Airport (IATA Code: TAB) on Tobago, about 16 km by road, via Claude Noel Highway and Milford Road, south west of Tobago's capital and largest city Scarborough.

Zoom out to see the location of Trinidad and Tobago within the Caribbean.

To find a location use the form below. To see just the map click on the Map button.

To find a location type: street or place, city, optional: state, country.


Local Time Trinidad and Tobago:

Monday-March-20 12:59

UTC/GMT -4 hours