Searchable Map and Satellite View of Surabaya using Google Earth Data

Surabaya is a major port and the second-largest city in

Indonesia. The city is located in northeastern Java at the mouth of the Mas River and along the edge of Madura Strait which separates Java from the much smaller island of Madura (Pulau Madura). Madura is now connected with Java by the Suramadu Bridge.

At the beginning of the 2nd millennium Surabaya was the capital of the Javanese Kingdom of Janggala, the port city was known then as 'Hujung Galuh'. A hundred years later it merged with the Kingdom of Kediri. In 1743 the Dutch East Indies Companies took over the city from the Islamic Sultanate of Mataram.

Today Surabaya is the capital of the Indonesian Jawa Timur province (East Java). The city has become one of the major trading port cities in Asia. Its Tanjung Perak is the country's second busiest port in Indonesia.

Surabaya has a population of around 3 million, more than 6 million people live in the metropolitan area. Spoken language is Suroboyoan, a Javanese dialect.

Some of the few attractions of Surabaya are:
Ciputra Waterpark, one of the biggest waterparks in Southeast Asia. Pantai Ria amusement park, one of its main attractionss is Sanggar Agung, actually a Chinese temple with a 20 meters tall statue of Guan Yin.
Surabaya Zoo (Bonbin Surabaya), once known as the largest zoo in South-East Asia is today just another neglected zoo in Indonesia.

The map shows a city map of Surabaya with expressways, main roads and streets. Zoom out to find the location of Surabaya International Airport (IATA code: SUB). The airport is also known as Juanda International Airport, it is Indonesia's second-largest and second-busiest airport.

To find a location use the form below.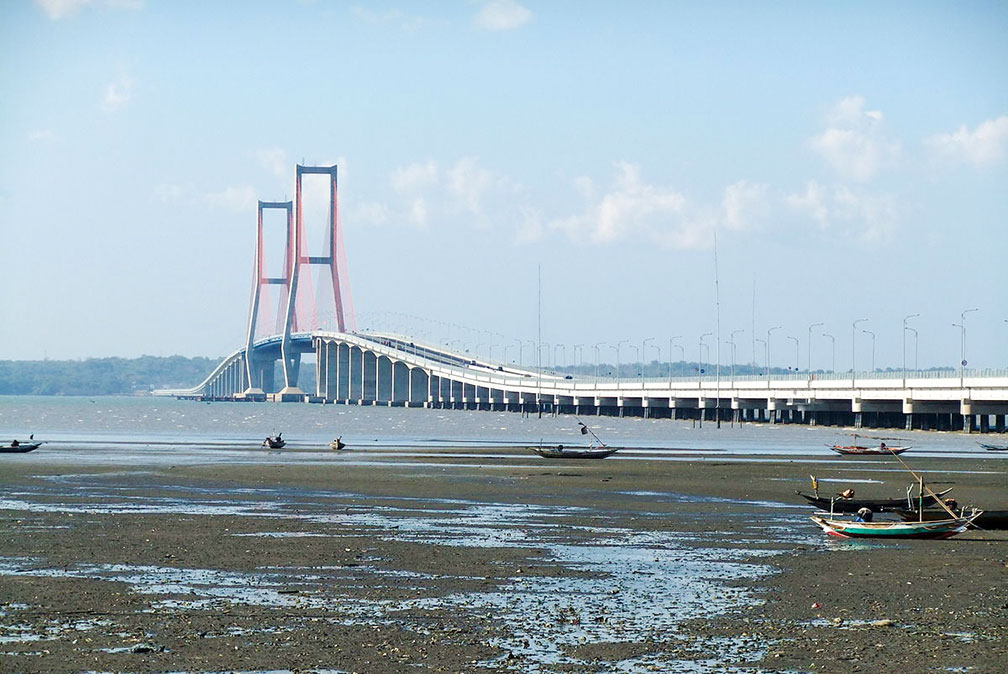 Suramadu Bridge, Indonesia's longest bridge connects Surabaya and Madura Island over the Madura Strait.
Image: Midori


Bookmark/share this page








To find a location type: street or place, city, optional: state, country.


Local Time Indonesia:

Thursday-November-26 05:20

Time zone: Western Indonesian Time (WIB) UTC/GMT +7 hours