Searchable Map and Satellite View of Bandar Seri Begawan using Google Earth Data

Satellite view is showing Bandar Seri Begawan, the national capital and the royal town of the Sultanate of

Brunei, a small kingdom on the island of Borneo.

Until 1970 the city was known as Brunei City (Bandar Brunei), the city was then renamed by the Sultan of Brunei in honor of his father.
Bandar Seri Begawan is located in the north eastern part of the country on the northern bank of Brunei River (Sungai Brunei).

Bandar Seri Begawan, most of the time abbreviated to BSB, has an estimated population of about 50-60,000 inhabitants, including Kampong Ayer, the water village, which is built entirely of stilt houses with wooden walkways, it is the historical core of Brunei.
About 300,000 people live in Brunei-Muara District, the north eastern corner of the country, the district is virtually the metropolitan area of BSB.

Spoken language is Malay (Bahasa Melayu), English in use as a bridge language.

Some attractions in BSB are, Sultan Omar Ali Saifuddin Mosque, considered to be one of the most beautiful mosques in South East Asia. The Islamic mosque is named after Omar Ali Saifuddien III, the 30th Sultan of Brunei. Istana Nurul Iman, the palace and the official residence of the Sultan of Brunei, it is also the seat of the Brunei government.
The Brunei Museum, the national museum of the country.
Jerudong Park, Brunei's amusement park opened in 1994. The city is home to the Universiti Brunei Darussalam

Brunei's oldest and largest university was established in 1985.

The map shows a city map of Bandar Seri Begawan with expressways, and the location of Brunei International Airport (IATA code: BWN).

To find a location use the form below.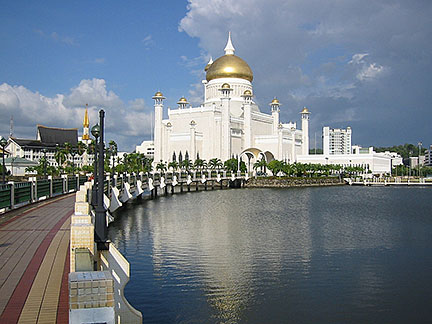 Sultan Omar Ali Saifuddien Mosque in the center of Bandar Seri Begawan


Image: Daniel Weiss




Bookmark/share this page








To find a location type: street or place, city, optional: state, country.


Local Time Bandar Seri Begawan:

Tuesday-December-1 08:14

UTC/GMT +8 hours