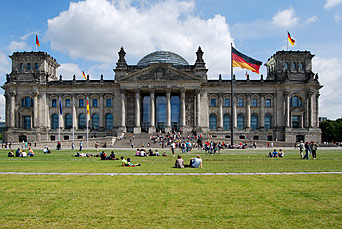 The Reichstag building near Brandenburg gate houses now the German parliament (Bundestag).

Image © Nations Online Project
Searchable Map of Berlin using Google Earth Data
Satellite view is showing Berlin, largest city and the national capital of

Germany, located in northeastern Germany, surrounded by the Federal State of Brandenburg, the city center lies along the river Spree. Berlin is also one of the 16 Federal States of Germany.

At the end of World War II, the city was occupied by the Allies and divided into two parts: West Berlin and East Berlin. Between 1961 and 1989, the Berlin Wall separated the two parts, which were reunited in 1990.

Berlin has a city population of about 3.4 million inhabitants and 4.9 million people live in its metropolitan area.

Just zoom in (+) to see the Brandenburg Gate (in German: Brandenburger Tor) one of the best known symbols of Berlin, to the north-west of the gate, at Scheidemannstraße and Platz der Republik, you see the seat of the German parliament, the Reichstag building with the glass dome adorning its roof.

The Map shows a city map of Berlin with expressways, main roads and streets, zoom out to find Berlin's international airports of Tegel and Schönefeld.

To find a location use the form below. To see just the map click on the "Map" button.