Searchable Map and Satellite View of Zurich using Google Earth Data
Satellite view is showing Zurich, largest city in

Switzerland. Zurich is located in the north of the country along Limmat river at the northern tip of Zürchsee (Zurich Lake).

The city is the country's main commercial and cultural center and it is a major international financial center (82 of 208 banking institutions in Switzerland have their headquarters in Zurich). The finance sector generates around a third of the wealth and a quarter of the jobs in the city.

Along with Geneva the city is the most important gateway to the country. Zurich has a population of about 380,000 inhabitants, in its metropolitan area live 1.9 million people. Official language is Swiss German.

Zürich is ranked as an Alpha World City in 2010, according to GaWC, and the Mercer Quality of Living Survey 2010 lists Zurich on the second place only after Vienna (Austria). According to the Homepage of the City of Zürich the city is Switzerland's biggest tourist destination and was in the «Lonely Planet» guide book's top ten of best places to visit around the world (2009).


The Map shows a city map of Zürich with expressways, main roads and streets, zoom out to find Zürich International Airport (IATA Code: ZRH) located to the north at the town of Kloten.
To find a location use the form below. To see just the map click on the "Map" Button.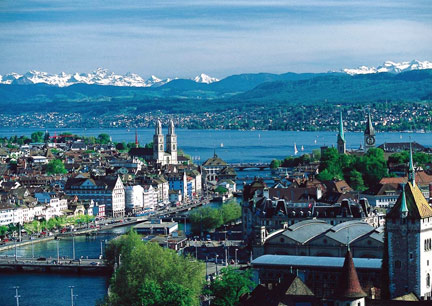 Zürich and lake Zürich, with Swiss Alps in background.
Image: MadGeographer