About Toulouse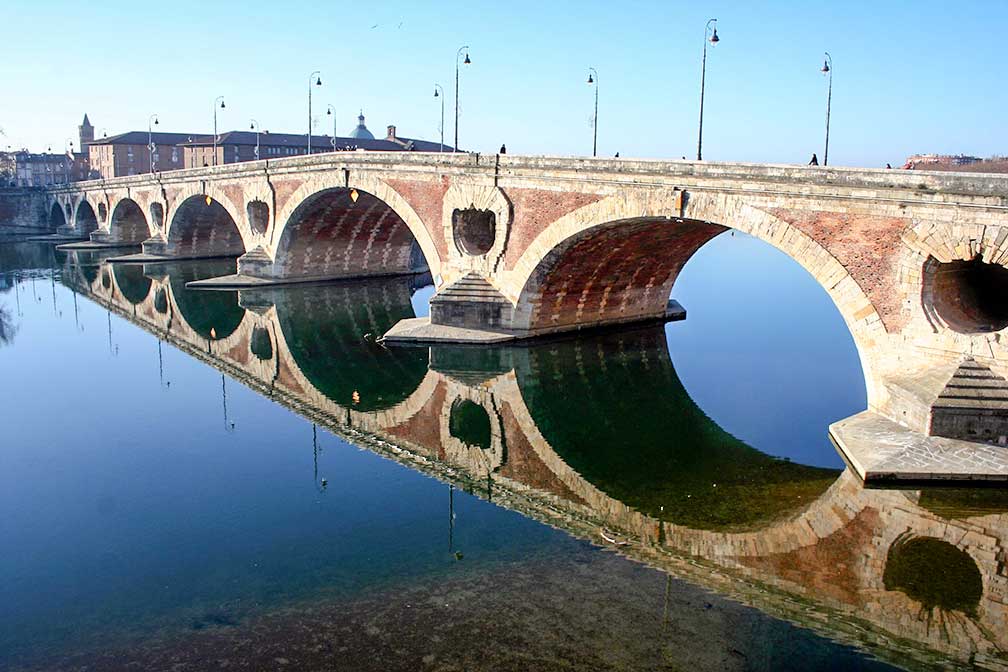 Image: Morburre

Map view showing Toulouse in south western

France. The capital of the Haute-Garonne department and the Midi-Pyrénées region is situated on the banks of the Garonne river, about 150 km (93 miles) from the Mediterranean Sea and 230 km (143 mi) from the Atlantic Ocean. The region has a humid subtropical climate with hot summers and cool winters.

Since ancient times the Garonne river was an essential means of transportation for the trade between the Pyrenees, the Mediterranean and the Atlantic. Rome occupied the region in the 2nd century BC and made the river port of Tolosa a military outpost. In the 5th century, Tolosa was conquered by the Visigoths and became in the early 6th century the capital of the Visigothic kingdom. In the 8th century it became the capital of the kingdom of Aquitaine (a traditional region of France) and was a center of artistic and literary activity for Languedoc (a historical region of France) in medieval Europe.


France's fourth largest city has a population of about 458,000 residents, 1.3 million people live in its urban area (aire urbaine). Spoken language is French and some Occitan (Langue d'oc) is still in use.

The city was always an important transportation hub due to its connection to the Atlantic Ocean and the Mediterranean Sea by the Canal du Midi, but in the last decades Toulouse evolved from a provincial capital to a center for education, business and high-tech industry. The city is home to the scientific Toulouse Space Center of CNES (the French Space Agency) and aerospace companies like Astrium, Spot Image and CLS-Argos Interspace.

Toulouse is also a key hub for Airbus, the company employs more than 21,000 people, around one-third of its total workforce, at its sites in the Toulouse area. Airbus SAS has its headquarters near Toulouse–Blagnac Airport in Blagnac, a suburb of Toulouse.


Toulouse points of interest:
Museums: Musée des Augustins (fine arts museum), Hôtel d'Assézat (16th century palace houses the Bemberg Foundation art gallery), Muséum de Toulouse (MHNT - natural history museum), Musée Saint-Raymond (antiquities museum), Georges Labit Museum (East Asian and and Egyptian art museum).
Churches: Basilica of St. Sernin (Romanesque former abbey church consecrated in 1180 is a UNESCO World Heritage Site: Routes of Santiago de Compostela in France

), Toulouse Cathedral (13th century Gothic-Romanesque cathedral and a national monument of France).
Transport: Pont Neuf (16th-century bridge), Canal du Midi (formerly Canal royal en Languedoc, the waterway was first used in 1681, it connects the Garonne to the Mediterranean, the canal is a World Heritage Site

)
Cité de l'espace (Space Museum focused on space and the conquest of space);

In 2016 Toulouse was one of the host cities for the UEFA Euro 2016 football games, venue was the Stadium Municipal, the largest multi-purpose stadium in the city.

The map shows a city map of Toulouse with expressways, main roads and streets, and the location of Toulouse–Blagnac Airport (IATA code: TLS) located west northwest of the city center.

To find a location use the form below.

To find a location type: street or place, city, optional: state, country.


Local Time France:

Wednsday-June-20 15:47

Standard Time Zone (CET): UTC/GMT +1 hours
CEST (Daylight Saving Time) in use from end of March until end of October: time zone offset: UTC/GMT +2 hours