About Swaziland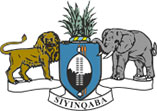 Map is showing Swaziland, the small landlocked kingdom in southern Africa. The country is bordered by South Africa and Mozambique. Swaziland occupies an area of 17,364 km², it is one of Africa's smallest countries, somewhat larger than half the size of Belgium, or slightly smaller than the U.S. state of New Jersey.

Swaziland's landscape is mountainous in west and along its eastern border, in between the lowveld, sloping plains of grasslands and thorn trees. Highest point is Mount Emlembe with 1,862 m, located in the east Drakensberg mountain range on the border with South Africa.

Swaziland has a population of 1.2 million people (est. 2010), capital city is Mbabane (Lobamba is the royal and legislative capital). Official languages are siSwati and English.

Countries with international borders to Swaziland are Mozambique, South Africa.


The map shows Swaziland with national parks, game reserves, cities, towns, expressways, main roads and streets.
To find a location use the form below. To view just the map, click on the "Map" button.

To find a location type: street or place, city, optional: state, country.


Local Time Swaziland:

Friday-June-2 10:42

(UTC/GMT +2 hours)