About Botswana

Satellite view is showing Botswana, a landlocked nation in Southern Africa, north of South Africa. The country is also bordered by Namibia in west, it has a short border with Zambia (0.15 km) in north, and it borders Zimbabwe in east.

With an area of 582,000 sq km the country is slightly bigger than France, or slightly smaller than the U.S. state of Texas. Botswana's landscape is flat with only some hills in south east.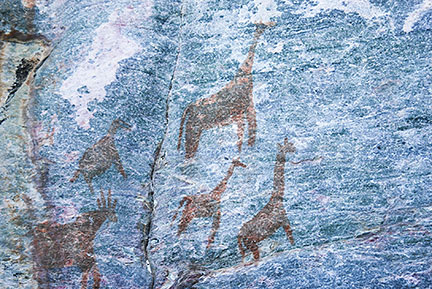 Image: Oliver Vass

There are some hills as well in the north western corner of the country, they include the highest point in the country, Tsodilo Hills, with an elevation of 1,489 m at the peak. The hills are a small area of massive rock formations that rise from ancient sand dunes of the Kalahari desert, located about 40 km west of the Okavango Panhandle, the 100 km long section of the river, where the Okavango enters Botswana and gets wider until it empties in the Okavango Delta.

The Tsodilo is a site of a unique religious and spiritual significance to local San peoples. The site became a UNESCO World Heritage Site

in 2001, for it has one of the highest concentrations of rock art in the world. Tsodilo has been called the ''Louvre of the Desert''.

Botswana is sparsely populated, since large parts of the country are covered by the Kalahari Desert in west and south west, where living conditions for humans are rather hostile. The world's 46th-largest country has a population of under 2 million people. Capital city is Gaborone. Spoken languages are English (official) and Setswana (Tswana).

The map shows Botswana with national parks, game reserves, cities, towns, expressways, main roads and streets.
To find a location use the form below.