About Port Elizabeth

Satellite View is showing Port Elizabeth (Xhosa: Ebhayi) a major seaport in South Africa. The city is located in central south of the country on the western shore of Algoa Bay (Indian Ocean) in Eastern Cape Province.

Port Elizabeth began as a military station, known as Fort Frederick established in 1799. After the arrival of the British Settlers in 1820, the settlement attained municipal status in 1868 and in 1913 it was proclaimed a city.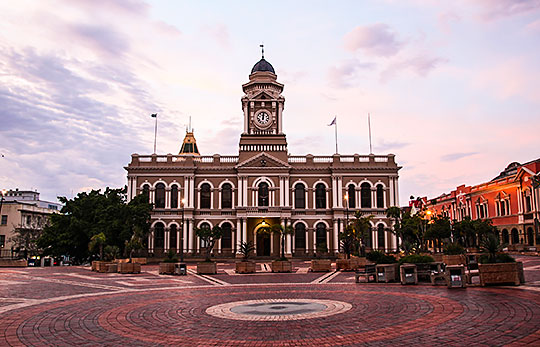 Image: Leo za1

The city, by locals often shortened to PE, has a population of about 312,000 inhabitants (in 2011), more than 1.1 million people live in Nelson Mandela Bay Metropolitan Municipality (NMMM) which comprises of the city of Port Elizabeth, some nearby towns and the surrounding rural area.
Spoken languages are isiXhosa (57%), Afrikaans (30%) and English (12%).

PE is nicknamed "The Friendly City" and also "The Windy City", also referred to as Africa's Watersport Capital, renowned world-wide among surfers as the home of the 'perfect wave' it host the annual "Billabong Pro" a high class surfing event at Jeffreys Bay (J'Bay).

The city's economic driver is South Africa's motor vehicle industry and its related suppliers.
In 2001, the Nelson Mandela Bay Metropolitan Municipality was formed as an administrative area covering Port Elizabeth, the neighboring towns of Uitenhage and Despatch and the surrounding areas.

Just zoom in to see Donkin Reserve, Pyramid and Lighthouse in the center of PE.
Other points of interest in or near the city are: Nelson Mandela Metropolitan Art Museum (collections of South African art); Red Location Museum (Apartheid museum); Kragga Kamma Game Park (small game reserve with White Rhino, Buffalo, Cheetah, Giraffe, Zebra, Nyala, Bontebok)

The map shows a city map of Port Elizabeth with expressways, main roads, and streets, and the location of Port Elizabeth International Airport (IATA Code: PLZ) as well as the location of the newly built Nelson Mandela Stadium, it was one of the ten venues for the 2010 FIFA World Cup Games.

To find a location use the form below.
To find a location type: street or place, city, optional: state, country.


Local Time Port Elizabeth:

Sunday-January-29 09:09 (UTC/GMT +2 hours)