About Namibia

Map is showing Namibia, a largely desert country in Southern Africa bordering the South Atlantic Ocean in east. Namibia is bordered by Botswana, Zambia, and Zimbabwe. The Orange River to the south forms the southern border with South Africa. The Kunene River and the Okavango River in north create sections of the nations border with Angola.

Namibia covers an area of 824,292 km² (318,260 sq. mi.), this is almost twice the size of Sweden, or slightly more than half the size of the U.S. state of Alaska, it is the second least densely populated country in the world (after Mongolia).

Namibia has a population of just 2 million inhabitants. Capital and largest city is Windhoek.
Spoken languages are English (official), Afrikaans, and various Bantu and Khoisan languages.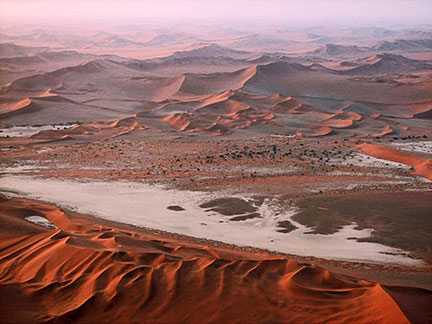 Image: Scott A. Christy

Namibia's natural landscapes consists of five major geographical areas: the Central Plateau, the Great Escarpment, the Namib Desert, the Kalahari Desert and the Kavango-Caprivi Region.

The country's highest point is

in the Brandberg Mountains

with Königstein as its highest peak at 2,606 m. The mountains with their collection of rock arts are in the north central part of the Tsiseb conservancy.

Other natural highlights are Etosha National Park in the Kunene region, home to hundreds of species of mammals, birds and reptiles, including several threatened and endangered species such as the black rhinoceros.

Sossusvlei, in the Namib-Naukluft National Park, a salt and clay pan surrounded by high red dunes.

Fish River Canyon, the largest canyon in Africa. Caprivi Strip, the wildlife rich area along the Okavango River in north east of the country, which gives Namibia access to the Zambezi River. Twyfelfontein

(ǀUi-ǁAis) about 60 km north of Brandberg Mountains in the Kunene Region has one of the largest concentrations of rock art engravings in Africa, it is now a UNESCO World Heritage Site.

The map shows Namibia with national parks, cities, towns, 'expressways', and main roads.

To find a location use the form below.

To find a location type: street or place, city, optional: state, country.


Local Time Namibia:

Friday-June-24 08:45

Time Zone: West African Time (WAT) GMT/UTC +1
From September to April Namibia observes West African Summer Time (WAST) GMT/UTC +2