About Australia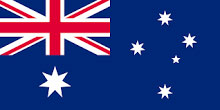 The map shows Australia, an island country in the southern hemisphere. The world's smallest continent borders the Timor Sea and the Arafura Sea in the north, the Coral Sea in the northeast, and the Tasman Sea in the southeast. The Indian Ocean lies to the west and the Southern Ocean to the south.
Australia has no land borders. The country s
hares maritime borders with East Timor, Indonesia, New Zealand, Papua New Guinea, Solomon Islands, and the islands of New Caledonia (a special collectivity of France).
The country is divided into six states and two territories; the states are New South Wales (NSW), Queensland (QLD), South Australia (SA), Tasmania (TAS), Victoria (VIC) and Western Australia (WA), the territories are the Northern Territory (NT) and the Australian Capital Territory (ACT) with the nation's capital city Canberra.
Several outlying islands belong to Australia, Ashmore and Cartier Islands, Christmas Island, Cocos (Keeling) Islands, the Coral Sea Islands, the Heard and McDonald Islands, and Norfolk Island. Adjacent to the continent's southeastern coast lies the mountainous island of Tasmania, separated from the mainland by the Bass Strait.
Off the northeastern coast of the country lies the Great Barrier Reef, the world's most extensive coral reef system in the southwestern Pacific Ocean. The
Great Barrier Reef

is a World Heritage Site.
An
area
of 7,692,024 km² makes Australia the sixth largest country in the world.
Australia is a member state of the Commonwealth of Nations. The country has a
population
of 25.4 million people (in 2020); capital is
Canberra
, the largest city is
Sydney
; official language is English.