Map is showing mainland Australia with the location of major cities, state capitals, and the borders of its administrative divisions.
The former British colonies New South Wales, Victoria, Queensland, South Australia, Western Australia, and Tasmania became sovereign states within the Commonwealth of Australia in 1901. Northern Territory became a self-governing territory in 1978 and a full state in 1995.

Australia's major cities/towns by population are Sydney, Melbourne, Brisbane, Perth, Adelaide, Gold Coast-Tweed Heads, Canberra-Queanbeyan, Newcastle, Central Coast, Wollongong, Sunshine Coast, Geelong, Townsville, Hobart, Cairns, Toowoomba, Darwin, and Alice Springs.
Australia mainland state/territory capitals are: Brisbane (Queensland), Canberra (Australian Capital Territory), Darwin (Northern Territory), Hobart (Tasmania), Melbourne (Victoria), Perth (Western Australia), and Sydney (New South Wales). Capital city of Australia is Canberra.

Click on the map to enlarge for a Political Map of Australia.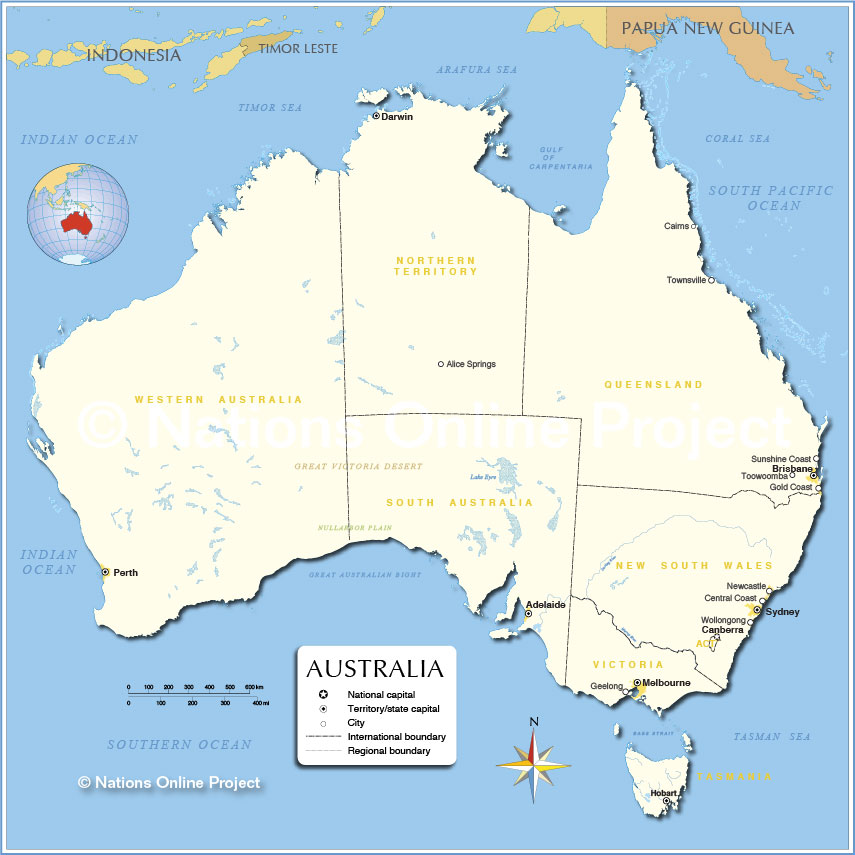 Administrative Map of Australia
Australia's States and Territories

New South Wales; state in southeastern Australia,
Area: 800,642 km² (compared, slightly larger than Turkey). Population: 7.2 million, capital is Sydney.

Northern Territory; state in northern central Australia,
Area: 1,349,129 km² (compared, almost 4 times the size of Germany). Population: 230,000 people, capital city is Darwin.

Queensland; state in northeastern Australia,
Queensland covers an area of 1,730,648 km² (compared, more than 3 times the size of France). Population: 4.5 million people, capital city is Brisbane.

South Australia; state in south central Australia, covering an area of 983,482 km² (compared, South Australia is more than 3 times the size of Norway). Population: 1.5 million, capital is Adelaide.

Tasmania; an Australian state in south east off of mainland Australia that consists of the mountainous island of Tasmania itself and several smaller islands; Tasmania is separated from Australia by the Bass Strait.
Area: 68,401 km² (compared, almost twice the size of Taiwan). Population: 500,000, capital city is Hobart.

Victoria is a state in southeastern Australia, it occupies an
area of 227,416 km² (compared it is more than 3 times the size of Panama). Population: 5.5 million, capital city is Melbourne.

Western Australia; the western third of Australia, it covers an area of 2,529,875 km² (compared, almost the size of Argentina (2,780,400 km², the second largest country in South America))
The population of 2.3 million is concentrated in the fertile southwest corner of the state, capital city is Perth.




Bookmark/share this page



The external dependencies of Australia are:

Territory of Ashmore and Cartier Islands
are some small low-lying uninhabited tropical islands in the Indian Ocean (Timor Sea) between Indonesia and Australia.

Australian Antarctic Territory (AAT)
Australia's Antarctic Territory, the largest territory of Antarctica, was claimed by the United Kingdom and placed under the authority of the Commonwealth of Australia in 1933, but most countries do not recognize territorial claims in Antarctica. (Population zero)
Antarctic Treaty System (December 1, 1959)
Article 4
"The treaty does not recognize, dispute, nor establish territorial sovereignty claims; no new claims shall be asserted while the treaty is in force".

Christmas Island
The island is a non-self-governing territory of Australia, capital is The Settlement. The small island is located about 400 km (250 mi) south of the eastern tip of the Indonesian island of Java and about 1,600 km (1,000 mi) north west of the Australian continent. Christmas Island has some beaches, a national park, and a huge Immigration Detention Center. Population about 2,000 people, 75% are Buddhists.

Territory of Cocos Islands (Keeling Islands)
Two atolls and 27 coral islands in the middle of nowhere in the Indian Ocean midway between Australia and Sri Lanka, bout 940 km west of Christmas Island. Cocos (Keeling) Islands has a population about 600. Capital is West Island (Pulau Panjang).

Coral Sea Islands Territory
Some virtually uninhabited islands in the Coral Sea about 520 km (320 mi) east of Cairns, Queensland, Australia and 700 km (440 mi) south of Papua New Guinea. The only inhabited island is Willis Island, the Australian Bureau of Meteorology runs a manned weather monitoring station there.

Territory of Heard and McDonald Islands
An uninhabited archipelago of volcanic Antarctic islands, far far away, about 4,000 km (2,500 mi) southwest of Perth and about 1800 km (1100 mi) north of the Antarctic seaboard, (Population 0)

Norfolk Island
The self-governing territory is a small island in the Pacific Ocean located between Australia, New Zealand and New Caledonia. Capital town is Kingston. (Population about 2,000).